‹ Go back
10 Motorcycles You Can Buy for $5,000 or Less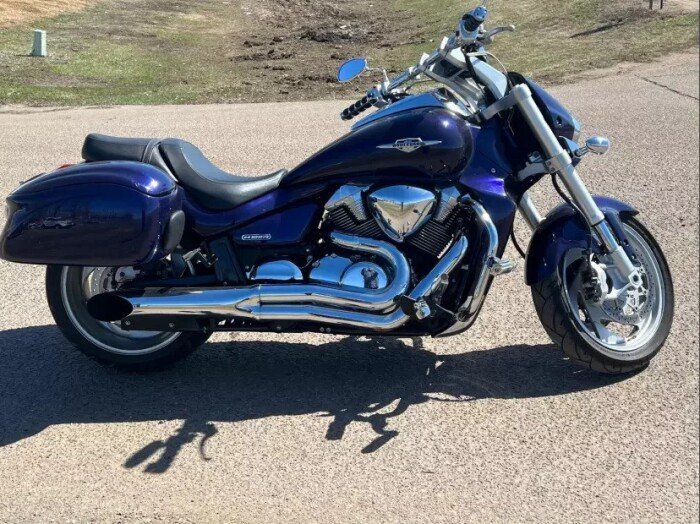 Author: Jason Fogelson

Table of Contents
What Motorcycles Can You Buy with $5k?
A motorcycle can cost a pretty penny, with some models starting at over $20,000. But you don't have to break the bank to enjoy time on two wheels. Motorcycles tend to lose value as they age, making buying a used bike a great deal. You can find great used bikes, even a few new ones, on a $5,000 budget.
A used motorcycle can be ideal for a new rider. As motorcyclists gain experience, they usually want to find a bigger, more powerful bike to exercise their skills. That leaves a perfect starter bike in the garage, awaiting its next pilot – and a great used bike value.
Similarly, as riders age, the powerful bikes they once enjoyed may be overwhelming or inappropriate for them. A solid used bike, just right for a rider moving up in class, can fit the bill – and a mature rider can sell the bike along at a reasonable price as a private seller.
Our list includes motorcycles in many categories from multiple makers. Presented in alphabetical order, it is not comprehensive – but it does represent some of the best bikes with the best values. Here's a list of 10 motorcycles you can buy on a $5,000 budget. Every photo below was from an actual listing on our site.
#1 Ducati Monster (620/696/796)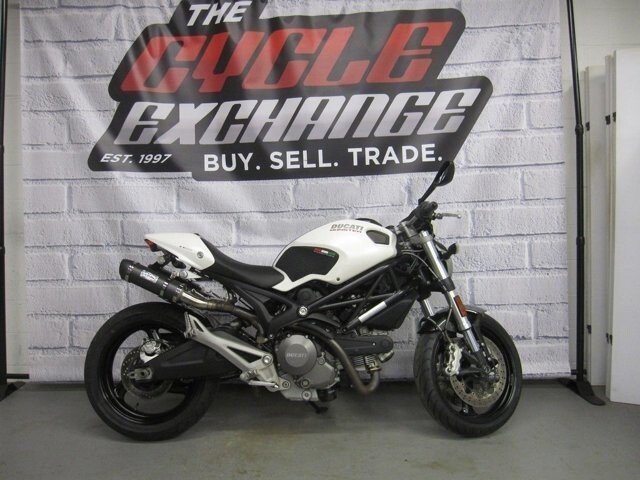 This
2011 Ducati Monster 696
was listed for $4,999 by
The Cycle Exchange
.
The Ducati Monster series has been in production since 1993 in various forms. This Italian bike established a new category of motorcycle, the naked bike, and quickly became the best-selling Ducati in the lineup. By stripping the bike of extraneous bodywork and exposing its signature trellis frame, Ducati created a motorcycle that appealed to city riders and industrial design lovers. Because the company has produced over 300,000 examples of the Monster, used bikes are plentiful and can be pretty affordable.
Italian motorcycles don't have the most outstanding reputation for reliability, so find the best-maintained, lowest-mileage Monster you can afford. Fortunately, the Monster's lack of expensive bodywork and sturdy construction make it the hardiest of Ducati models and the easiest to maintain and repair. The Monster models that resonate with us are the 620, 696, and the 796. And no matter which size Monster you select, you are guaranteed to find a ride that will challenge and delight you.
Ducati Monster price and suggested model years
Motorcycle category: Naked/Street
Focus on these model years: 2001 - 2007
On a budget? Stretch to buy a 2001 or newer Monster with water cooling and fuel injection - you'll be glad you did.
#2 Harley-Davidson Sportster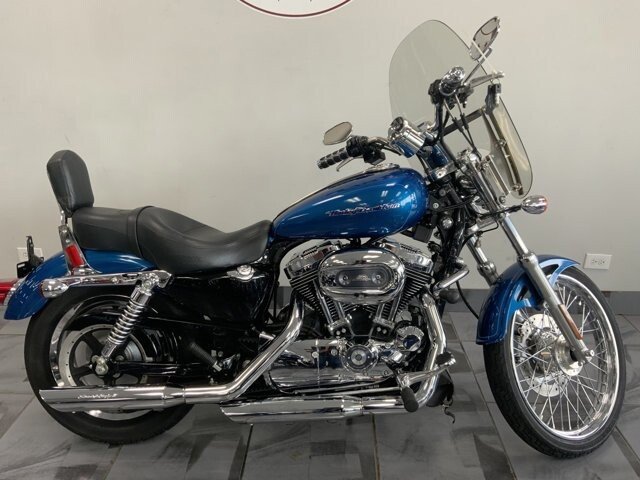 This
2005 Harley Davidson Sportster
with 22,408 miles was listed for $4,495 by
Chicago Cycles and Motorsports
.
Harley-Davidson has had a Sportster in its lineup since 1957, which says a lot about the model's appeal. Like the traditional Big Twin models, the Sportster uses an air-cooled V-twin engine in a cradle frame. Sportster displacement generally falls into two ranges: 883 cc and 1200 cc. There have been variations throughout production. To some, the Sportster is an entry-level Harley since it is lighter, smaller, and usually more affordable than a Big Twin like a Softail or Touring bike. To those who ride and love the Sportster (I'm one of them), the Sporty is a better-handling, quicker motorcycle with a lot of fun built in.
Fortunately for buyers, Sportsters have not held their value as well as the big bikes in the Harley-Davidson lineup, and some excellent bikes fall under the $5,000 price line. Harley made incremental changes and updates to the Sportster over the years, primarily improvements in the view of the faithful. The engine took a big jump in quality with the introduction of the Evolution engine in 1986, and ride quality improved dramatically with a new frame and rubber engine mounting in 2004.
Harley-Davidson Sportster price and suggested model years
Motorcycle category: Cruiser
Focus on these model years: 2004 – 2010
On a budget? The Sportster is an affordable way to join the Harley-Davidson community.
#3 Honda Goldwing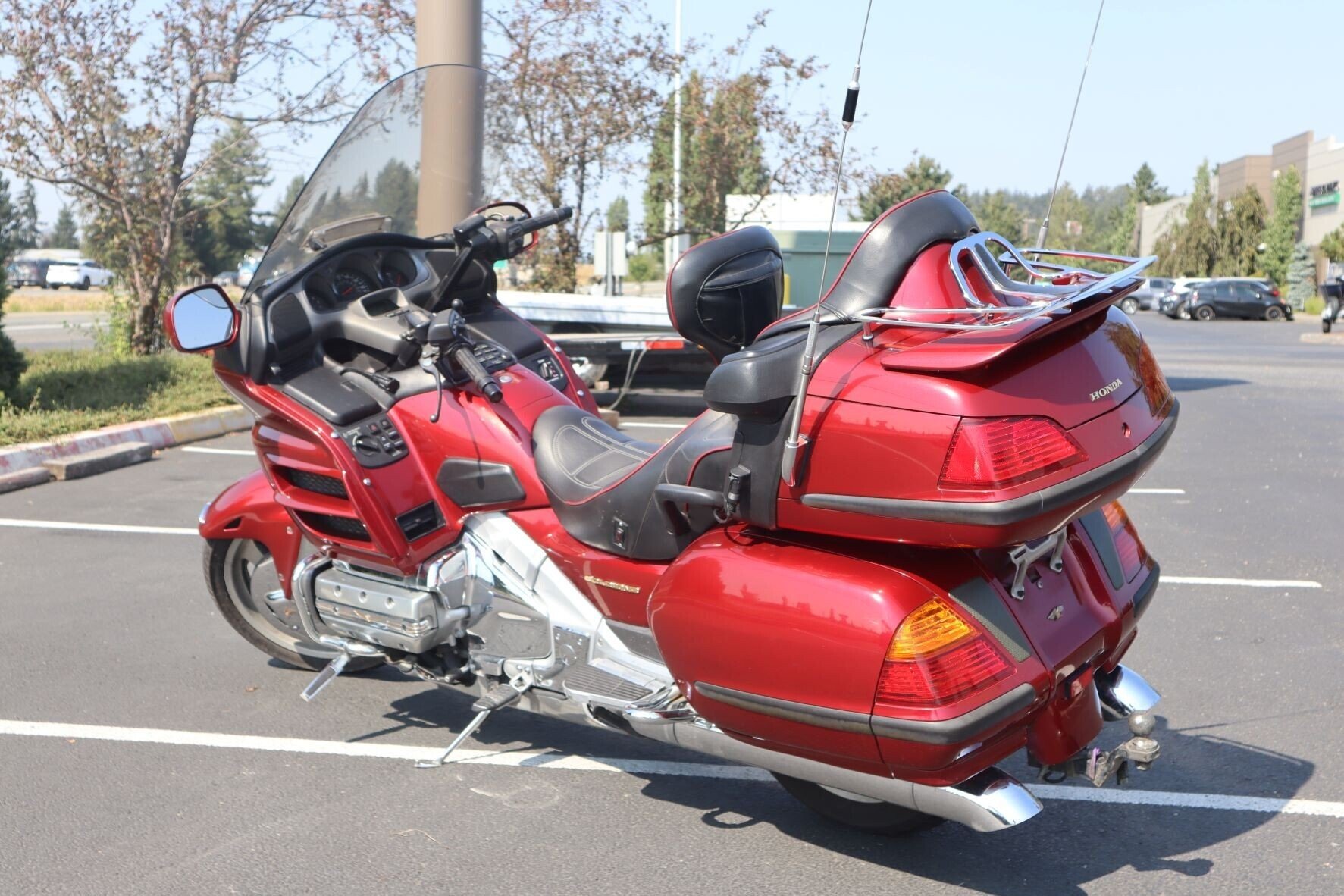 This
2001 Honda Gold Wing
was listed for $4,999 by
Lifestyle Honda
.
The Honda Goldwing has been synonymous with a luxurious style of motorcycle touring for a generation. Launched as a big standard by the Japanese motorcycle maker in 1975, U.S. buyers were soon bolting on aftermarket fairings and bodywork to the Goldwing and heading for the sunset. Honda took note, and soon the Goldwing wore full touring armor from the factory, becoming a full-dress touring bike with a flat-six engine and all the amenities. Goldwing riders were known as sensible, mature bikers, much more likely to feature a stuffed bear on their touring trunk than a skull and crossbones tattooed on their biceps.
While a 2023 Honda Goldwing starts at over $25,000, some good, low-mileage examples of the fourth-generation Goldwing (1987 – 2000) sell for $5,000 or less, representing an exceptional value. Goldwing models are renowned for their reliability, durability, and capability. If you're looking for a bike you can ride every day and turn around and ride two-up across the country on vacation, this is the one.
Honda Goldwing price and suggested model years
Motorcycle category: Touring
Focus on these model years: 1987 – 2000
On a budget? Look for a stock Goldwing that has been well-maintained and ridden regularly. Don't fear a bike with miles, as long as it has been well cared for.
#4 Honda Grom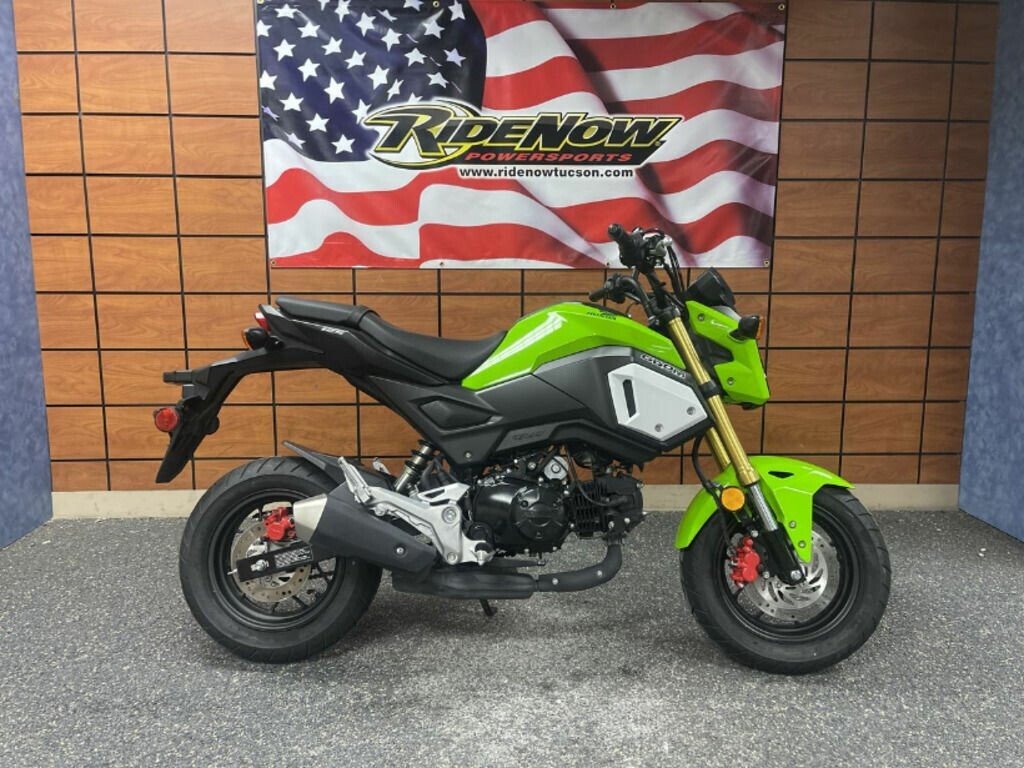 This
2020 Honda Grom
with 2,182 miles was listed for $3,392 from
RideNow Powersports Tucson
.
How much fun can you pack into 125cc? Nobody knows, but the folks in Thailand who build the Honda Grom mini moto bike are trying to find out. This tiny terror has become a cult favorite worldwide for its manageable size, zippy engine, and eager personality. Not only does a new 2023 Honda Grom list with a starting price of $3,499 but it is also rated to achieve over 120 mpg, making it a doubly frugal buy. But the real reason to buy a Grom is to have fun, as the mini moto handles well, stops on a dime, and is very rider-friendly. This little guy is the perfect bike to have in the garage at your vacation house as a runabout. Small enough for entry-level riders, the Grom is somehow big enough for full-sized adults, which doesn't seem possible at first glance.
Watch out for used Grom models over modified by amateurs or abused by careless owners. Though the little bikes are rugged and well-built, failure to maintain them correctly will result in a shortened useful life. If you can, spring for a new Grom at the dealer and add anti-lock brakes to the spec sheet for enhanced safety. Check out our Honda Grom buying guide if you want more insight into this 5-speed shiftable mini moto.
Honda Grom price and suggested model years
Motorcycle category: Minimoto
Focus on these model years: 2014 - present
On a budget? Beware a bargain Grom – these popular minimotos should command full price; if they don't, something's wrong.
#5 Kawasaki KLR650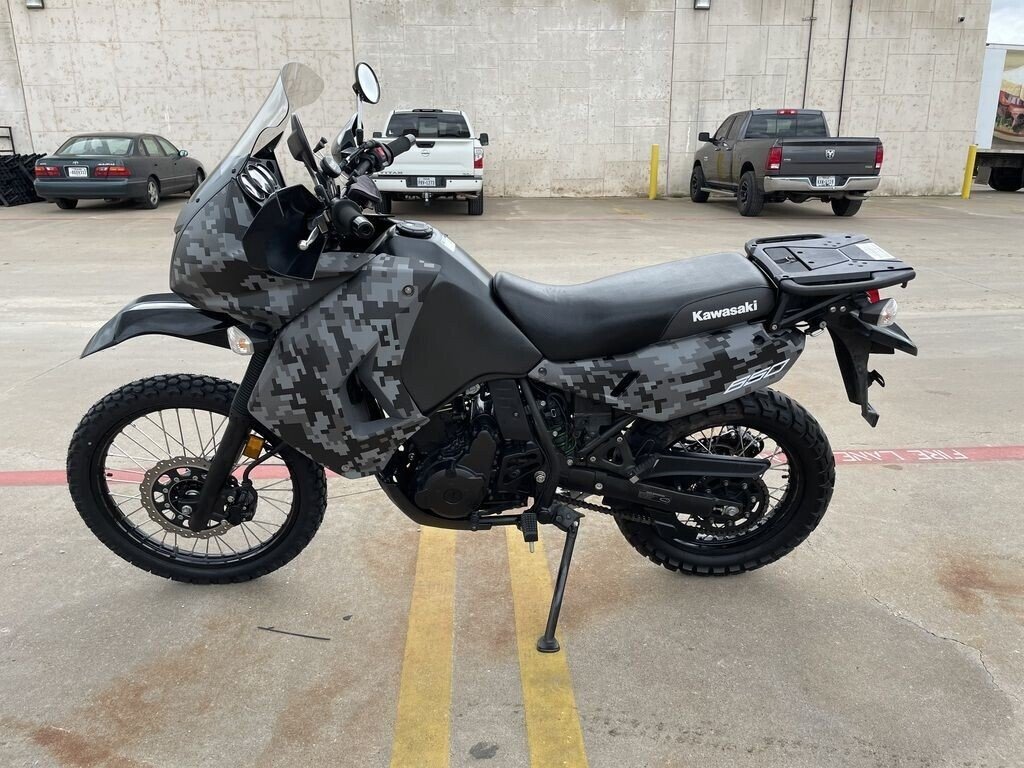 This
2016 Kawasaki KLR650
with 2,262 miles was listed for $4,995 by
Freedom Powersports Denton
.
If you want to ride around the world on a motorcycle, stop here because we've got your bike. The Kawasaki KLR650 dual-sport motorcycle is the best all-around motorcycle for under $5,000. This 651-cc water-cooled single-cylinder bike is known for its excellent riding position, grunty low-end torque, dead reliability, and bullet-proof build quality. In a throw-away economy, the KLR650 remained fundamentally unchanged from its introduction as a 1987 model through the 2007 model year, with just incremental updates along the way. This long production run gave owners and the aftermarket many opportunities to tweak and tune the KLR650 with upgrades with names like "the Doohickey," a desirable aftermarket stamped metal part that uses a spring to apply tension to the engine balancer chain to reduce vibration.
If you're considering a used KLR650 (the bike is still in production in its third generation), take some time to educate yourself. Internet groups can be very informative and welcoming to new owners and can help you avoid buying a bike that has not been modified wisely. Find a well-maintained KLR650 from the original generation (1987 – 2007). You will probably be able to buy it well under the $5,000 level and have money left over for accessories and modifications to suit your purposes.
Kawasaki KLR650 price and suggested model years
Motorcycle category: Dual Sport
Focus on these model years: 1987 - 2007
On a budget? Don't be afraid of older examples of first-generation bikes – they're almost exactly the same as the newer ones.
#6 Kawasaki Ninja 400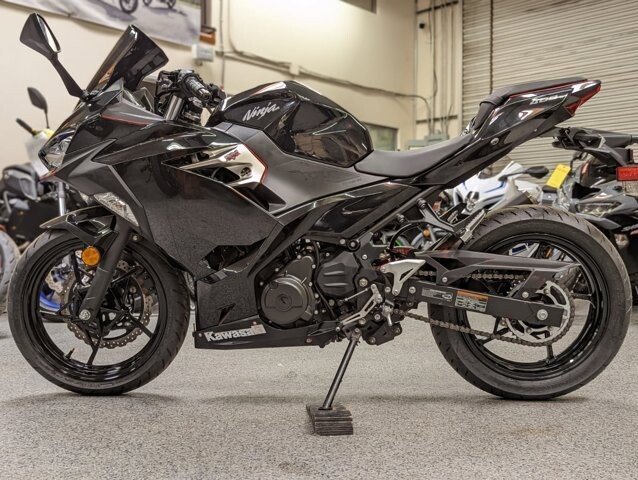 This
2019 Kawasaki Ninja 400
was listed for $4,995 by
AK Motors
.
The Kawasaki Ninja 400 has been the entry-level Ninja since 2018, when it replaced the Ninja 300 at the lineup's base. The bike's 399-cc parallel-twin engine is high-revving but not finicky. It is easy to control on the street and can perform beautifully on a track. The available anti-lock braking (ABS) adds safety. Kawasaki's Ergo-Fit system enables handlebar, seat, and footpeg adjustments to customize fit for different rider sizes and preferences. When correctly set up, the Ninja 400 can be a comfortable, flickable joy machine – not the origami torture device frequently found in the sport bike class.
New 2022 models may linger on showroom floors, carrying steep discounts, so you may be able to find a new Ninja 400 at a $5,000 budget if you don't mind last year's issue (spoiler alert: it's almost exactly the same as the 2023). With used bikes, beware of squid-owned models, which may have been abused and neglected despite low miles. Find an unmodified bike with a mature, responsible owner, and ask for maintenance records. Though Kawasaki builds a solid, dependable product, Ninja riders do not always have the same reputation, and their bikes often suffer.
Kawasaki Ninja 400 price and suggested model years
Motorcycle category: Sport Bike
Focus on these model years: 2018 - 2022
On a budget? Note the tire condition on any used Ninja 400, as bikes that have ridden aggressively may need new tires despite low miles – a potential budget-breaker.
#7 Suzuki Boulevard 800 and 1500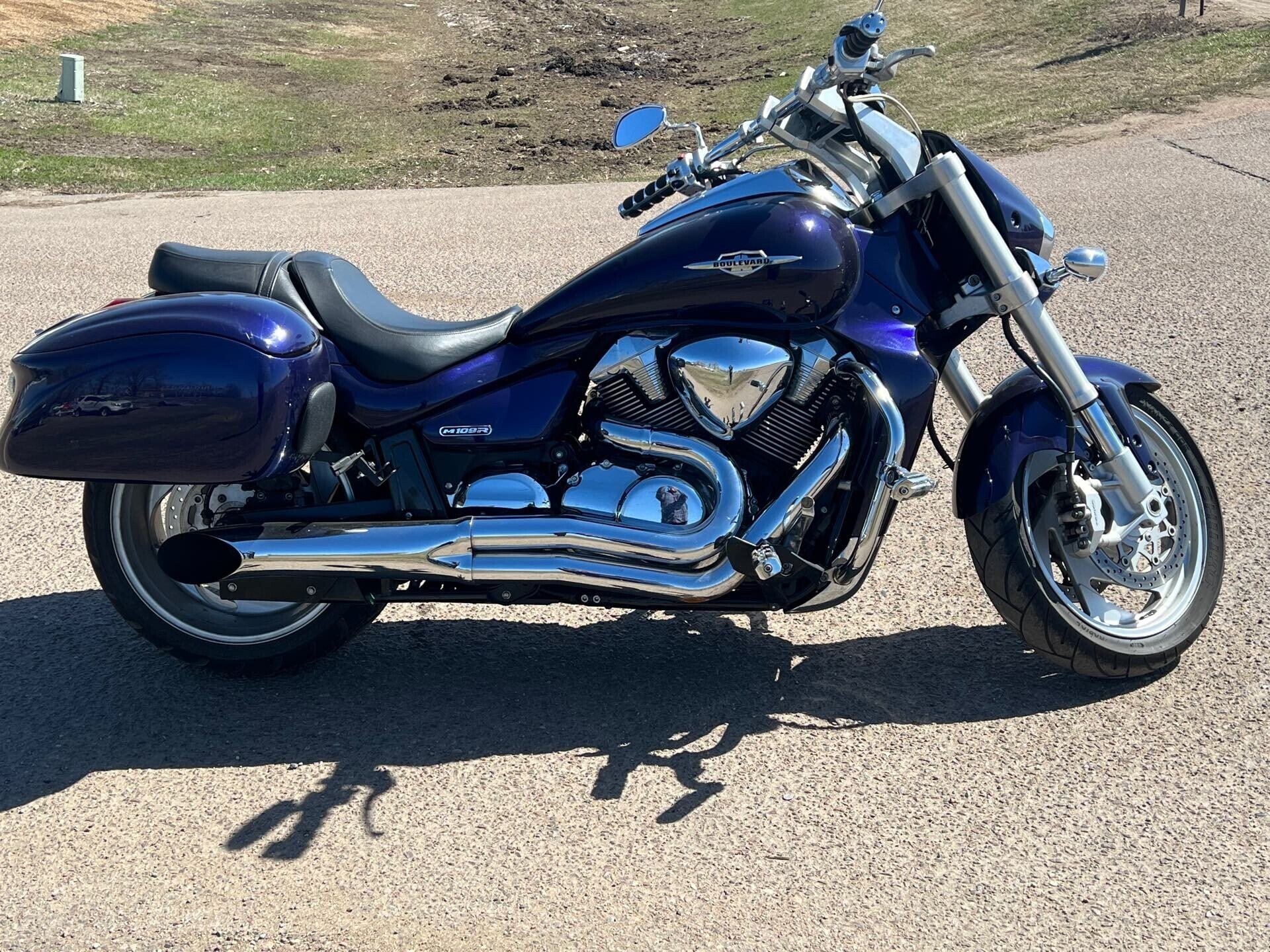 This
2006 Suzuki Boulevard 1800
M109R was listed for $4,999 by
Interlakes Sport Center
.
The Suzuki Boulevard 800 and Boulevard 1500 are two examples of the Japanese take on a cruiser. Not only are they quite competent, but they also represent excellent values on the used market. The Boulevard lineup evolved from the Volusia, and the Boulevard 800 was also called the Boulevard C50 after its 50-cubic-inch 45-degree V-twin, similar in size and configuration to the H-D Sportster. Unlike the Harley, the Boulevard bikes are liquid-cooled and have featured fuel injection since 2005. The Boulevard 1500 (C90) is a bigger, scaled-up take on the same formula. It evolved from the Intruder and was produced from 1998 to 2019. Like the 800, the 1500 uses a liquid-cooled 45-degree V-twin and shaft drive.
Non-motorcyclists will assume the Boulevard bikes are Harley-Davidson cruisers, but the bikes have little in common beyond styling and basic layout. The liquid-cooled, shaft-driven Boulevard bikes are smooth, quiet, and reliable. They're also much more affordable than their Harley equivalents. To find a Boulevard 800 under $5,000, look at the 2005 – 2013 model years. For a Boulevard 1500 under $5,000, look at the 2001 – 2008 model years.
Suzuki Boulevard 800 and 1500 price and suggested model years
Motorcycle category: Cruiser
Focus on these model years: 2005 – 2013 (800), 2001 – 2008 (1500)
On a budget? Ignore the brand and focus on the bike. A well-priced used Boulevard 800 or Boulevard 1500 can be a great value.
#8 Suzuki DR-Z50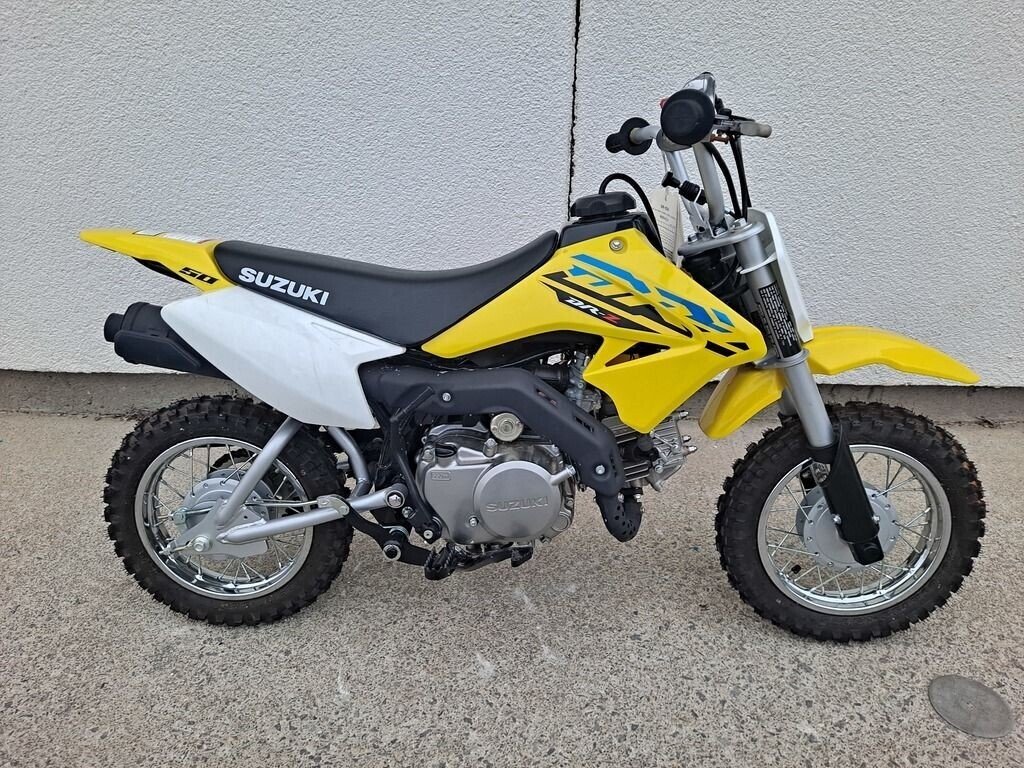 This
2022 Suzuki DR-Z50
was listed for $1,589 by
Freedom Powersports of Huntsville
.
Riding off-road is the best way to learn motorcycling. If your child has shown an interest in riding motorcycles, the Suzuki DR-Z50 is a great first step toward introducing them to a lifelong passion. Starting at $2,499 for a new 2023 model, the DR-Z50 uses a 49-cc single-cylinder gasoline engine with electric start and a keyed ignition. With proper adult supervision, this little bike can help teach your tike the basics of acceleration, braking, cornering, and shifting a motorcycle. It has a 22-inch seat height and a kick starter for backup in case the battery runs down. The low price of entry leaves you room to buy the right protective gear for your young rider, including a DOT-approved helmet, a jacket, and riding pants with body armor, boots, and gloves. Don't skimp on the safety equipment.
But you might be able to save on the bike. Check used listings on Autotrader, as a young rider might outgrow a DR-Z50 before they can wear it out, and you may find a bargain. Just be sure you're buying a safe, running example and not a project you won't be able to finish before your youth becomes an adult.
Suzuki DR-Z50 price and suggested model years
Motorcycle category: Youth
Focus on these model years: New
On a budget? Use the money left over from your $5,000 budget to buy state-of-the-art safety gear for your young rider.
#9 Vespa Primavera 50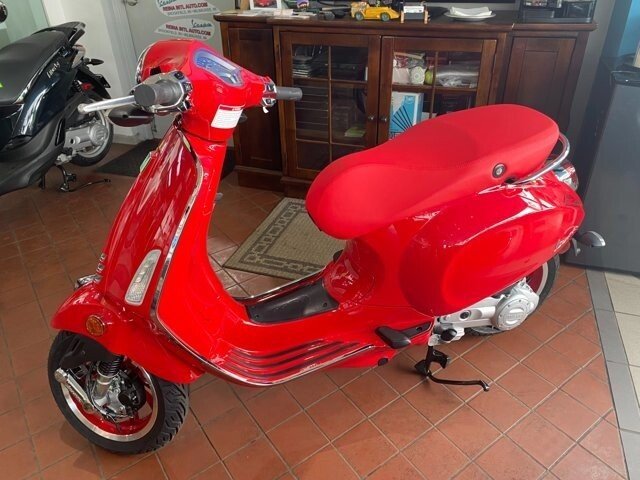 This
2023 Vespa Primavera 50
was listed for $4,299 by
Reina IntL Milwaukee
.
Anyone who has seen the 1953 movie "Roman Holiday" knows Vespa scooters are magical. Audrey Hepburn and Gregory Peck scoot around Rome in a whirlwind romance, their Vespa scooters embodying freedom and love. You can capture a little bit of that Vespa magic by buying a new Vespa Primavera 50 scooter, which slides in under our $5,000 budget with a list price of $4,399. Using a 50-cc 4-stroke, 3-valve per cylinder, air-cooled engine with electronic injection, the Primavera 50 has enough power to keep up with city traffic or to meander along a country road. Its timeless styling evokes Italy of the 1950s and '60s, while its modern technology and electronics are up to the minute for today's riders. The Primavera 50 comes in seven factory colors with such exciting names as "Arancio Impulsivo," "Bianco Innocente," and "Blu Energico."
A Vespa Primavera 50 is an excellent moped for casual and new riders, with a user-friendly interface and clutch-free transmission. It's light, easy to ride, simple to maintain, and affordable. Not only that – the Vespa Primavera 50 is super stylish. If you're considering purchasing one, you may also want to review our Vespa Scooter buying guide.
Vespa Primavera 50 price and suggested model years
Motorcycle category: Scooter/Moped
Focus on these model years: New
On a budget? Even a 1 to 2-year-old Primavera 50 is almost the same cost as a new model.
#10 Yamaha MT-03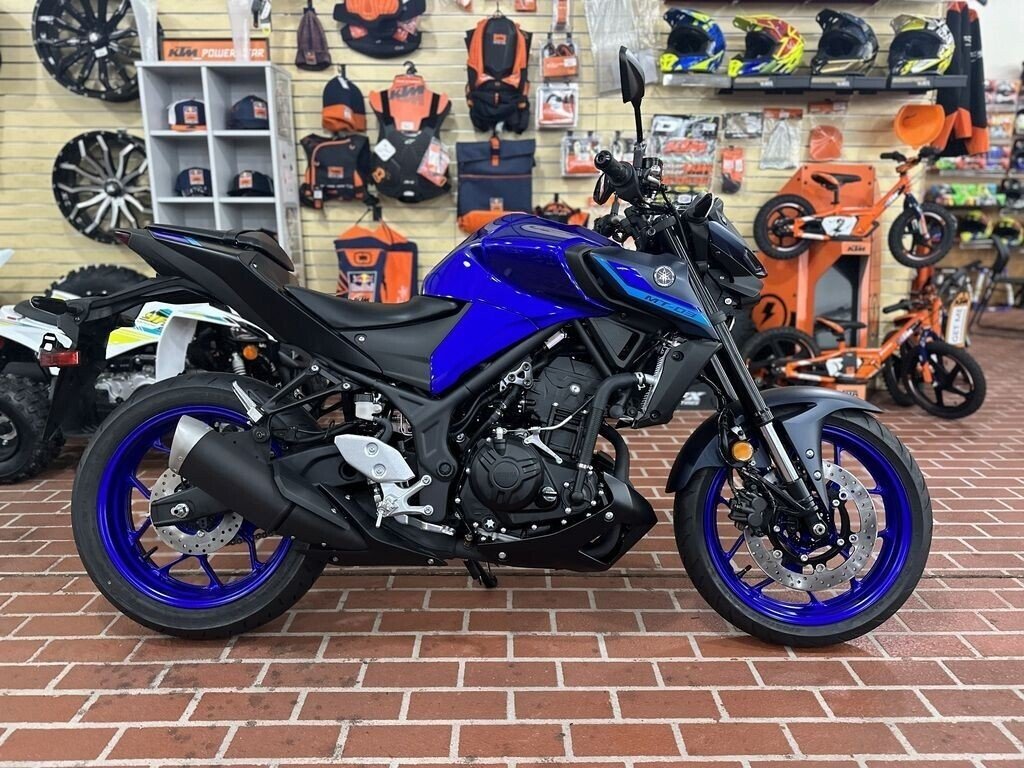 This
2023 Yamaha MT-03
was listed for $4,999 by
Ridenow Powersports Beach Boulevard
.
Yamaha has used the MT-03 nameplate twice so far. First on a single-cylinder thumper from 2006 – 2014; and then on a parallel-twin street bike in production since 2016. You could consider the current MT-03 a street version of the YZF-R3 sport bike, sharing a frame and basic architecture, a liquid-cooled 320-cc engine, and a 6-speed transmission. The MT-03 has fewer plastic body parts and a more upright riding position – better for the street. It retains the R3's spunky personality and slinky handling and is a blast.
New 2023 Yamaha MT-03 bikes start at a list price of $4,999, sliding just under our $5,000 budget bar. A leftover 2022 model could save you a few bucks without any penalties. As with any bike that might have been ridden aggressively, be very careful with used examples. Ask to see maintenance records and check the tires, which are often a clear indicator of rough treatment.
Yamaha MT-03 price and suggested model years
Motorcycle category: Street Bike
Focus on these model years: 2016 - present
On a budget? If you can afford a new bike, even if it's a leftover showroom model, choose that over a used bike without maintenance records.
Published May 17th, 2023
More Motorcycle News & Article Categories:
Related Articles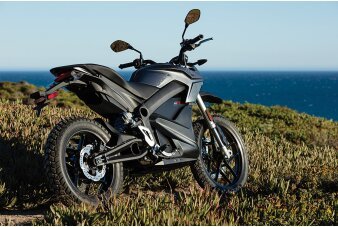 Zero's latest electric dual sport motorcycle makes its case for space in the garage.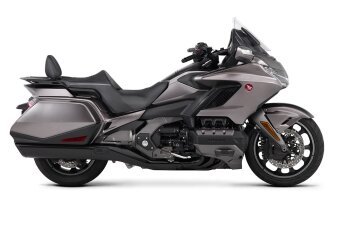 Honda redesigns its Gold Wing from the ground up for 2018
Related Motorcycles
×
10 Motorcycles Under $5,000