‹ Go back
2017 Indian Roadmaster: First Ride Review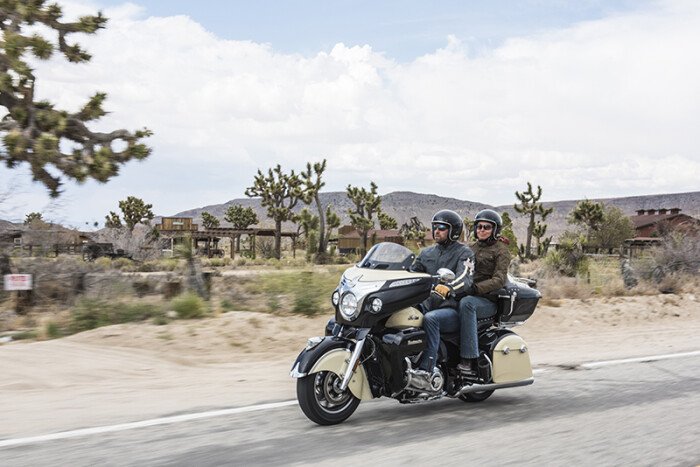 Author: Jason Fogelson
Indian, the Lazarus of motorcycle brands, lives again, and the 2017 Indian Roadmaster represents the top-of-the-line full-dress touring bike from the revivified company. A classic touring cruiser-style bike, the Roadmaster offers riders a sophisticated alternative to the Harley-Davidson Electra Glide Ultra Limited.
Indian History
Indian promotes itself as America's first motorcycle brand, a statement based on the company's 1901 birth date (Harley-Davidson started business in 1903). The full story proves more complicated. The original Indian was, indeed, founded in 1901 in Springfield, Massachusetts. During the first half of the 20th century, Indian and Harley fought for supremacy on the racetrack and on sales floors, with each brand attracting fierce loyalty. World War II proved to be Indian's undoing. The company's reallocation of resources to the war effort, coupled with plunging retail sales, led to a number of ownership changes and disorganization. Harley surged in the postwar period, but Indian slumped and ultimately failed. The original company stopped building bikes in 1953.
However, interest in Indian never died. Several entrepreneurs slapped the Indian brand on generic and imported motorcycles over the years, effectively keeping it alive in the minds of consumers. As the cruiser trend grew in the 1980s and '90s thanks to Harley-Davidson's resurgent success, major business efforts arose to start a new Indian company. Inevitably, the rights to the Indian name and brand got tied up in legal wrangling. An effort in the late 1990s seemed to straighten things out, and the Indian Motorcycle Manufacturing Company began building motorcycles in Gilroy, California. The bikes were essentially Harley clones, bolted together from Harley aftermarket parts and dressed up with Indian bodywork and branding. After a promising launch, the Gilroy Indian factory suddenly shut down in 2003. In 2004, a brand-reviving private equity group called Stellican obtained the rights to the Indian brand and put a new bike into production in Kings Mountain, North Carolina, in 2008.
In 2011, Minneapolis, Minnesota-based, power-sports giant Polaris Industries bought Indian. Polaris builds snowmobiles, off-road vehicles, commercial and government utility vehicles, GEM electric cars, the 3-wheeled Slingshot and Victory motorcycles. By the 2014 model year, the new Indian Motorcycle Company was building and selling a new lineup of clean-sheet-designed motorcycles, assembled in Spirit Lake, Iowa, and the Indian brand was reborn.
Roadmaster 101
The Indian Roadmaster was first introduced as a 2015 model and returns for 2017 with a significant technological update: Ride Command, a new infotainment and navigation system.
Before exploring Ride Command, we'll let the bike take center stage.
Roadmaster (a classic Indian name from the 1940s) is Indian's touring motorcycle. It wears a full fairing, hard saddlebags, a hard trunk with an integrated passenger backrest, a 2-tiered seat and rider and passenger floorboards. The fairing is fork-mounted, which means it turns with the front wheel. The Roadmaster's frame is cast from aluminum, a more rigid material choice than Harley-Davidson's tubular steel setup. The front suspension is a conventional 46-millimeter-diameter telescopic fork with 4.7 inches of travel, while rear suspension is handled by a single air-adjustable shock with 4.5 inches of travel. Non-linked anti-lock braking operates with dual 300-millimeter discs on the front and a single 300-mm disc on the rear. Sixteen-inch cast aluminum wheels (3.0 inches wide in front/5.0 inches wide in the rear) get shod with Dunlop Elite 3 rubber. Deeply valanced front fenders topped with a lighted Indian headdress ornament announce the Roadmaster's arrival in style.
Power comes from Indian's proprietary Thunder Stroke 111 air-/oil-cooled fuel-injected V-twin engine. The primary drive gear send power to a final-drive belt via a 6-speed manual transmission. Indian claims the powertrain produces 119.2 lb-ft of torque (they don't state horsepower figures). The gas tank holds a touring-worthy 5.5 gallons of premium fuel.
Riding the Roadmaster
The Roadmaster weighs in at 912 pounds dry. With a relatively low seat height of 26.5 inches, it's easy to lever the bike off its side stand (there is no center stand) to start rolling. Low-speed handling is aided by precise fuel delivery via throttle by wire (as opposed to mechanical-cable throttle operation) and light clutch pull. Once the bike is under way, the Roadmaster handles beautifully. The rigid frame really shows its worth when cornering, feeling rock-solid and flex-free. The front suspension soaks up road imperfections. Adjusting the rear suspension with the included air pump delivers the perfect ride for load conditions all the way up to a 473-lb carrying capacity.
We tested the Roadmaster at this year's Black Hills Motor Classic in and around Sturgis, South Dakota, riding on a wide variety of roads and highways, both with and without a passenger. The stock Roadmaster delivers a supremely comfortable ride. The big engine's vibrations never intrude on the ride, and the stock twin exhaust emits an impressive low rumble without veering into overpowering sound. The stump-pulling torque allows for liberal gear selection. Power is available at low engine speed, with peak torque coming in at 3,000 revolutions per minute so you can concentrate on cornering without sawing through the gears. The brakes do a great job of hauling the bike down from speed, and lean angle is never an issue at street-legal speeds.
Our passenger reported a comfortable, secure ride. She appreciated her high perch, which allowed for a forward view without wind buffeting. An electrically adjustable (via handlebar control) windshield allows for fine-tuning for individual riders and conditions. Some riders might want to try accessory shields at different heights for the perfect view over or through the windshield.
On a hot day in heavy traffic, the Roadmaster radiated a lot of heat below the rider's right thigh, causing some discomfort after a few miles of parade speeds, so beware.
Ride Command
Infotainment on a touring motorcycle is a relatively new application. The challenges of simple operation with gloved hands and weather sealing have to be addressed, and the safety issue of rider distraction must be considered.
Indian's new Ride Command is the company's first attempt at marrying a touchscreen interface with its bikes (the system is also standard on the Indian Chieftain). A 7-in color touchscreen lives in the center of the fairing, just below the windscreen. Ride Command integrates audio, navigation and bike information, including vehicle speed, engine speed, tire pressure, odometer and trip meter readings. The system is customizable via the rider screens, which offer various single and split-screen views to bring information to the rider quickly and simply. Buttons below the screen and redundant handlebar controls allow for simple operation. The touchscreen responds to gloved or bare fingers equally well. Bluetooth and USB connection for smartphones and other devices is standard, and you can also link a headset via Bluetooth. The USB connection point is housed in a covered compartment on top of the dash and provides charging in addition to connection functions. AM/FM radio is included, though there's no provision for satellite radio at present. Of course, an easy work-around is to use a smartphone app for satellite radio, which works well as long as a cellular data connection is available.
On the Roadmaster, a powerful amplifier sends sound to four speakers (two in the fairing for the rider, two on the trunk for the passenger). At highway speeds, the sound from the speakers is clear and audible, even through helmets and earplugs -- an impressive and useful perk.
Conclusions
Competition is good for bike buyers. Until the Roadmaster came along, Harley-Davidson's Electra Glide and Road Glide models had the cruising tourer market cornered, with limited competition from Kawasaki, Suzuki and Yamaha over the years. Honda's Gold Wing and BMW's K 1600 GTL compete as luxury tourers, just without the retro design and pose.
The 2017 Indian Roadmaster starts at $28,999 in Thunder Black, up to $30,399 for 2-tone paint jobs, slightly higher than the comparable Harley Electra Glide Ultra Limited ($26,999 in Vivid Black; up to $28,299 in custom colors). But price probably won't be the deciding factor between the two bikes for most buyers. The big question will be: Are you a Harley rider, or are you an Indian rider? Let the competition begin.
To gain access to this information, Autotrader attended an event sponsored by the vehicle's manufacturer.
Published May 16th, 2017
More Motorcycle News & Article Categories:
Related Articles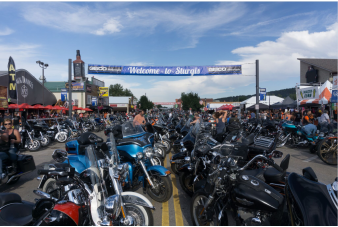 A trip to motorcycling's biggest gathering can be great. Or horrifying. Or both.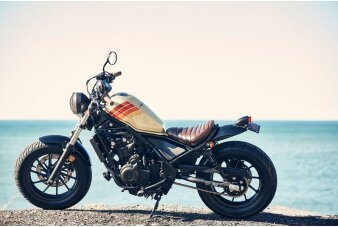 The latest version of the iconic Honda Rebel is coming to South by Southwest -- and there's a twist.
Related Motorcycles
×
2017 Indian Roadmaster: First Ride Review