‹ Go back
2017 Zero DSR Electric Motorcycle Review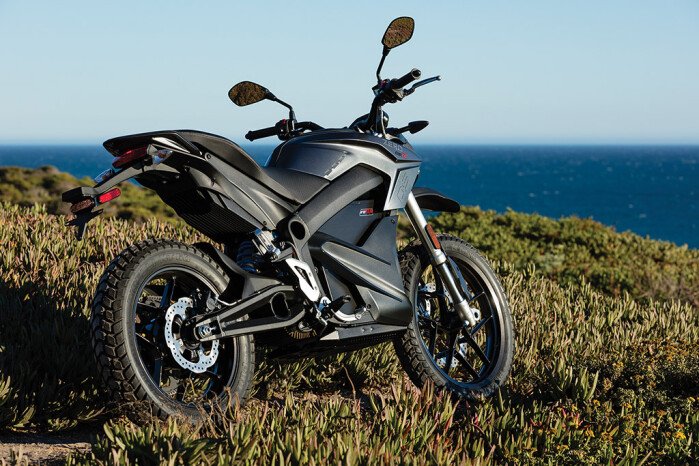 Author: Jason Fogelson
The 2017 Zero DSR is an all-electric dual sport motorcycle, the latest from Scotts Valley, California-based Zero Motorcycles, which has been producing all-electric motorcycles since 2006.
The motorcycle industry, like the auto industry, is struggling toward the future, and that future looks like it will have a much larger share of electric vehicles (EVs). While cars can dip one toe into EV operation while maintaining a firm foot on the dock with hybrid gasoline/electric powertrains, motorcycles don't really have that luxury. They have to jump in with both feet or stay out of the water entirely.
Zero Lineup
Zero Motorcycles currently produces six models, each designed for a slightly different riding purpose. Pricing starts at $8,495 for the FX and super moto FXS models and runs up to up to $15,995 for the "electric hot rod" SR. The dual-sport-style DSR has a base price of $15,995. Tax incentives may bring the final cost down a little, depending on where you live. California, where Zero is based, currently offers a $900 incentive. Check your local county and municipality, too -- some areas offer additional savings. New Zero bikes come with a 2-year basic warranty and a 5-year/unlimited-mile battery warranty.
Simple Yet Complex
Electric motorcycles use sophisticated technology and engineering, but the bikes are mechanically quite simple thanks to the difference between an electric motor and a gasoline engine. On the DSR, the Z-Force electric motor draws current from the bike's onboard lithium-ion power pack and sends up to 70 horsepower and 116 lb-ft of torque to the rear wheel via a Poly Chain HTD Carbon belt. There's no clutch, no gears, no transmission -- it's direct drive. The motor and drive belt require no regular maintenance, just inspection. The system is air-cooled, so there's no radiator, no fluid and no oil. Just treat the battery right, maintain your tires, and an electric bike is as close to a carefree motorcycle as you'll find. Operation is nearly silent, with just the whir of the belt and the sound of the tires competing with wind noise.
The complexity comes in the technology, which manages the engine output, the battery and other systems. Because an electric motor has its full torque (twisting force) available from zero rpm, the big challenge for engineers is figuring out how to spool out that force in a usable fashion. Dump all that torque at the start and you'll burn tires and pop wheelies. Fun, but very impractical. Dole out the torque too slowly and you'll have a bike that performs like a train -- very slow out of the station until it builds up steam. The perfect balance lies somewhere in the middle, requiring computer control and algorithmic mathematics to deliver a fun, useable riding experience.
The Bike
The DSR is built around an aluminum spar frame and makes use of some quality aftermarket components, including a Showa suspension with twin cartridge front forks and a single rear shock, a Bosch ABS brake system and Pirelli MT-60 tires on 19-inch front/17-in rear wheels. The wheelbase is compact, at 56.2 inches, and seat height is a tall 33.2 inches. The DSR weighs 419 pounds (since there are no fluids, dry weight and curb weight are the same), and has a carrying capacity of 356 lbs.
Riding Modes
The DSR comes with three user-selectable riding modes accessible via the bike's dashboard, hand controls or a smartphone app: Eco, Sport and Custom. The modes allow riders to tweak power output and regeneration parameters for desired performance. Eco also limits top speed to about 70 mph, because higher speeds eat into the bike's range very rapidly.
The App
Download the Zero Motorcycles app to your smartphone, pair the phone to the bike via Bluetooth, and you now have a customizable second dashboard in your hands. You'll have to add a phone mount to your handlebars to use it safely while riding, but the smartphone display can give you more information and a clearer display than the bike's dash. Just beware of distraction while riding -- you can easily get caught up in the information and lose track of the road.
Riding Experience
Riding the DSR is a blast. All that torque in a bike weighing 419 lbs means the bike feels really fast, especially in urban traffic and on back roads. The seating position is relaxed, a nice middle ground between sport-bike crouch and cruiser lean, with midset foot pegs, a high but flat bar and plenty of space. The DSR feels balanced and composed and changes direction quickly on demand. It takes a few minutes to get used to the twist-and-go throttle, but the more you ride, the more natural it feels. The brakes also take some getting used to, because the regenerative function destroys any fine linear feel. But this too becomes second nature and is a characteristic of the bike rather than a major flaw.
Conquering Range Anxiety
The one thing Zero has not conquered yet is range anxiety. The advertised range of 147 miles city/88 miles highway/110 miles combined on a charge can be achieved in Eco mode, but where I live, that means staying off the highway, because even though the speed limit usually tops out at 65 mph, traffic flow generally exceeds 70 mph, as limited in Eco mode.
Zero offers options to help with the range anxiety. There's a $2,695 Power Tank, an additional battery that installs in the DSR's faux gas tank. That can extend the DSR's range to 184 miles city/110 miles hwy/138 miles combined in Eco mode. Zero also offers a $600 Quick Charger that allows the use of high-power connections.
The $1,995 Charge Tank is another option. A Level II charge port gets installed in the faux gas tank instead of a Power Tank battery, allowing you to use commercial or residential 220-volt charging stations, which can bring the onboard battery up to an 80 percent charge from empty in about an hour. Charging on household 110-volt current takes about 8 hours from empty.
Our Recommendation
The available range relegates the Zero DSR to commuting and fun riding duty, unless your rides are short and don't involve much freeway riding. As a second bike and a great attention-grabber, the DSR shines. Pull up to a group of gas-burning bikers and let the Q&A session begin. The 2017 Zero DSR would be a serious contender for a motorcyclist looking for a completely unique experience, and its low maintenance requirements make it a good choice for occasional riding. The price of entry is still a little high, but the riding experience is very tempting. As more and more electric motorcycles hit the market, prices are bound to decline and range is certain to improve. Electric motorcycles are the future, and the DSR is very nearly the bike for the present.
Find a Zero DSR for sale
Published Oct 18th, 2017
More Motorcycle News & Article Categories:
Related Articles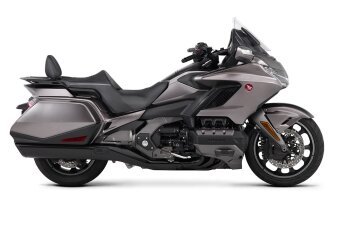 Honda redesigns its Gold Wing from the ground up for 2018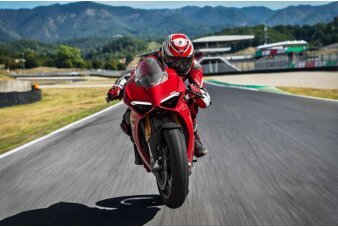 2018 is shaping up to be an exciting year for motorcycles.
Related Motorcycles
×
2017 Zero DSR Electric Motorcycle Review