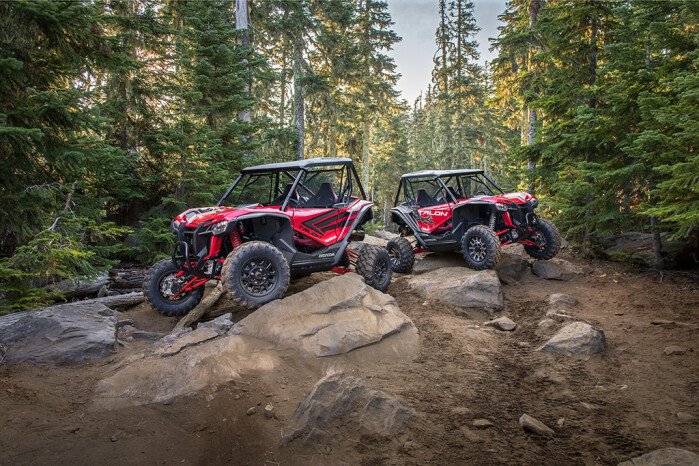 Author: Colin Ryan
Table of Contents
The 2019 Honda Talon is a Sport Side by Side (SxS) utility task vehicle (UTV). It seats two abreast and one lucky occupant gets to work the steering wheel, accelerator and brakes. The Talon comes in two variations, the 1000X and the 1000R.

Honda Talon 1000X vs. 1000R
With a wider track and more suspension travel, the 1000R is well-suited to desert work, great for absorbing bumps at high speed and tackling rocks. The cheaper 1000X and its more compact footprint has the edge in nimbleness and could be the better choice when negotiating tight forest trails.

Honda Talon Features
However, they both share Honda's ever-reliable build quality and durability. Weight distribution is a well-balanced 45/55 front to rear, and there are some excellent examples of common sense, such as mounting the battery high up so it's better protected from dust and water. The air intake is similarly located out of harm's way, while the engine's air filter is also easily accessible and replaceable. After a full day's enjoyment, the rubber-matted interior can be hosed out -- even the electronics are waterproof.
Honda Talon Horsepower
Propelling the 2019 Honda Talon is a liquid-cooled, 1.0-liter 2-cylinder engine in a parallel configuration mounted longitudinally behind the seats. If anyone is familiar with the Honda Africa multi-terrain motorcycle, it's the same fuel-injected 4-stroke engine. In the new Talon, it makes 104 horsepower.

This energy goes through a 6-speed automated transmission (it's a dual-clutch setup, but is operated like a regular automatic) with steering wheel-mounted paddle shifters. Here's where the Talon is different from its rivals, which usually have continuously variable transmissions (CVT). It means a little more weight, but this kind of transmission brings sharper drivetrain responses and greater fuel efficiency.

The next step is either rear-wheel drive or an "intelligent" all-wheel-drive mode with low-range gearing, known as i-AWD. In this setup, power can go to any wheel or wheels that have the most grip.
Honda doesn't give any torque figures, but the engine has been tuned to not have any flat spots or sharp peaks. Power delivery comes on in a linear way, pulling strongly through all the gears. Top speed is limited electronically to 74 mph.
Honda Talon 1000R
The new Talon 1000R could easily be modified into a Baja desert racer. Its track of 68.4 inches is complemented by 17.7 inches of suspension travel at the front and 20.1 inches at the rear. The shock absorbers are from Fox, a well-respected third-party supplier. The ride quality is forgiving, the seats are comfortable enough for extended periods and there's plenty of feel in regard to how the chassis is reacting.
Honda Talon 1000X
The X model, meanwhile, has the tightest turning circle of the two Talons: 17.7 feet compared with 21.3 feet. As mentioned above, if an owner's SxS playground involves more trails through the woods, this is an important consideration, along with the track of 64 inches. Suspension travel in the X is 14.6 and 15.1 inches, front and rear respectively, with shocks also from Fox. Ground clearance is not as advantageous as the R, but 12.7 inches versus 13 inches isn't bad. And the R is lighter by 65 pounds.
Honda Talon Price
The price of waltzing through the wilderness with the 2019 Honda Talon starts at $20,939 for the 1000X, or the 1000R is $1,000 extra. Standard equipment includes disc brakes front and rear, 3-point seat belts, nerf bars, a rearview mirror, 15-in alloy wheels wearing all-terrain tires, a front bumper, roof netting and the half windshield.
This makes the Talon a costlier pick than some rivals, but most of those don't have as much standard equipment, while the Talon has a much better transmission that's well worth the extra dollars.
Honda Talon Accessories
Options include Warn winches (another respected third-party supplier), covers for the three-quarter doors, aluminum body parts for racing, seat belt harnesses, cargo organizers and an audio system.
Other Models to Consider
Among the rivals are the Polaris RZR, the Can-Am Maverick 1000R and the Arctic Cat Wildcat. Every SxS has its appeals and arguable downsides, but the Talon is a well-made, well-equipped, well-considered, and profoundly enjoyable machine from Honda, a company whose engineering credentials are beyond dispute.
Find a Honda Talon 1000X for sale
Find a Honda Talon 1000R for sale
Published Aug 24th, 2022
Frequently Asked Questions About the Honda Talon
More Motorcycle News & Article Categories:
Related Articles
Currently, there are no related articles to display.
Related Side-by-Sides
×
2019 Honda Talon Review