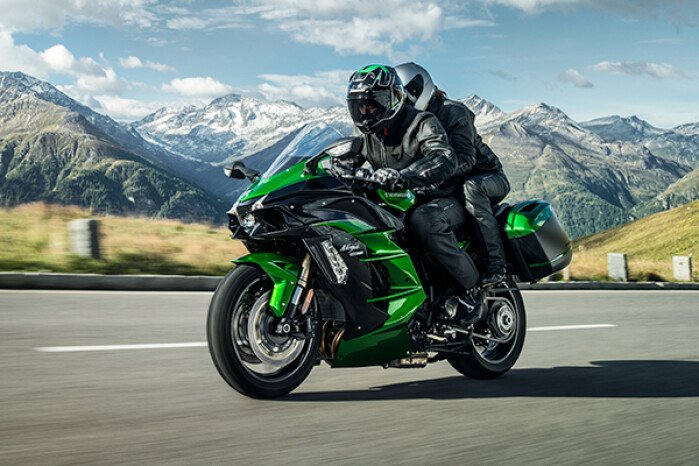 Author: David Booth
Spring has sprung, the grass is riz, I wonder where the new motorcycles is. Sunshine, clear skies and twisty roads. Spring time is happy time for motorcyclists and nothing makes a biker happier than a new set of wheels. We look at the hottest five new motorcycles in dealerships this spring.
2018 Husqvarna Vitpilen 701
"This is not the bike Steve McQueen rode," says Maxime Thouvenin, the new Vitpilen's designer. "It's the bike he would have wanted to ride." And with that pithy comment did Husqvarna separate the Vitpilen from the rest of the resto-rods sweeping the motorcycling industry.
The Vitpilen 701 may be the savior of the forgotten mid-displacement sportbike segment, its light weight bolstered by one very powerful single-cylinder engine. The 693-cc KTM-sourced single pumps out 75 horsepower, which may not seem like much compared with 120-hp 600-cc fours, but it only has to motivate 346 pounds.
Handling, as one might suspect from the aforementioned light weight, is lively. Look into a corner and the Vitpilen fairly anticipates your desire to clip apex. When a motorcycle is this light, all manner of ills can be forgiven.
Not that the Vitpilen 701($11,999) has many faults. It rides on premium WP suspension, stops sharpish thanks to Brembo brakes and features too-cool-for-school digital instrumentation. The Vitpilen was the hit of the motorcycle show circuit and, for once, substance matches style.
2018 Ducati Scrambler 110
This one was a no-brainer, Ducati's Scrambler already being the volume player in Ducati's lineup. With 46,000 Scramblers sold since January of 2015, this new 1100 version was as inevitable as rain in Spain.
Essentially, what Ducati has done is resurrect its 1079-cc, air-cooled V-twin, upgraded its emissions-reduction hardware and plopped it into an only slightly modified Scrambler chassis. Yes, it is one of Ducati's older V-twins, but it still packs 86 hp and it only has to motivate 211 kilograms.
Thanks to some serious chassis upgrades, the 1100 handles more gracefully as well. A new upper "trellis" subframe helps extend the 1100's wheelbase to a rangy 59.6 inches. A 45-mm upside-down Marzocchi front fork sports 150-mm of travel, as does the rear, direct-acting Kayaba monoshock.
The most important aspect of the new 1100 (base price, $12,995), however, is that, like its smaller siblings, it is imminently customizable with a plethora of custom parts available from Ducati. For Scrambler owners, the stock bike is but the blank canvas onto which they stamp their own personality.
2018 BMW F750/850 GS
While it is the big R1200 GS that garners the most adventure-touring accolades for BMW, the brand-new F850 version of Bayerische Motoren Werke's Gelände Sport that may be the superior pseudo off-roader.
For one thing, it weighs "only" 229 kilograms, heavy for a ground pounder, yes, but still substantially less than a fully loaded 1200 GS. Perhaps more importantly, it's stock seat height of 860 mm is much more accommodating for riders under six feet, and there's even a lowering kit that takes things down to a very accommodating 815 mm.
Smaller should no be misconstrued with less, however. BMW's newly enlarged parallel twin -- now displacing 853 cc -- pumps out a stout 95 hp. Just as importantly, thanks to a unique 270-degree crankshaft and twin counterbalancers, it's incredibly smooth.
The F850 is also brimming with high-tech features, coming standard with ABS and traction control and having BMW's ESA electronically adjustable suspension. Pride of place in the electronic area, however, must go to the optional "Connectivity" dashboard, which replaces BMW's traditional speedo and indicator combination with a giant -- by motorcycle standards -- 6.5-in TFT screen.
What this all means is that the F850 GS (estimated to be priced at $13,000 when it arrives in October) is virtually as well equipped as its larger R1200 sibling. Yes, it's down some 30-hp on the big Boxer twin, but it is substantially lighter, just as comfortable and far more maneuverable off-road.
2018 Honda Gold Wing
The introduction of a new Gold Wing is an event. Actually, to be perfectly precise, it's a rare event, the previous generation lasting 17 years, an eon in a motorcycle industry in which bikes are updated even more often than automobiles.
So there is much new for 2018. Most noticeable is that it's smaller, a virtual seven-eighths scale version of the previous behemoth. But thanks to some judicious aerodynamic trickery, the fairing coverage for both rider and passenger is almost as complete as the previous model's barn-door-sized fairing.
Additionally, the 2018 Gold Wing rides on an all-new Hossack-style front suspension. Essentially an automotive double-wishbone arrangement turned sideways, the new front suspension not only soaks up bumps better but almost completely eliminates dive during braking.
It all adds up to a far superior Gold Wing (starting at $26,700 for the "Tour" model). The lighter weight renders it far more agile, the new suspension that much more supple and revised seating position supremely comfortable. The lighter, more maneuverable 2018 Gold Wing Tour is once again at the top of the touring class.
2018 Kawasaki H2 SX
No discussion of the hottest bikes of 2018 is complete without mentioning the H2 SX, Kawasaki's supercharged, 197-hp sport touring bike. Yes, saddlebags and a supercharger.
Essentially Kawasaki's H2 superbike blessed with a larger, more protective fairing, a little softer suspension and the aforementioned saddlebags, the SX is designed for people who like ride long distances but want to get their quickly. Very quickly.
For $19,000, one gets the same 998-cc inline force-fed four, but to make the power delivery more manageable the compression has been upped to 11.2:1 (for more low-end torque) while the throttle bodies have been downsized from 50 mm to 40 mm to tame the crazy top-end rush.
The H2's tubular steel trellis frame design is carried over, but with strengthening modifications to accommodate the extra load of a passenger and cargo. Make no mistake, the H2 SX is all about speed and that supercharger.
Handle 2018's new motorcycles with care.
Published May 11th, 2018
More Motorcycle News & Article Categories:
Related Articles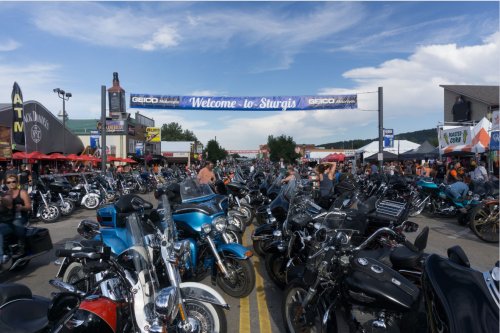 A trip to motorcycling's biggest gathering can be great. Or horrifying. Or both.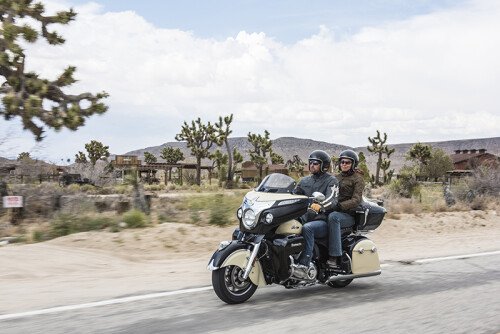 Look out, Electra Glide. The 2017 Indian Roadmaster is on your trail, and it's a luxurious, comfortable ride.
Advertisement
×
5 Significant New Motorcycles Arriving This Spring