‹ Go back
BMW Experiments With Self-Riding Motorcycle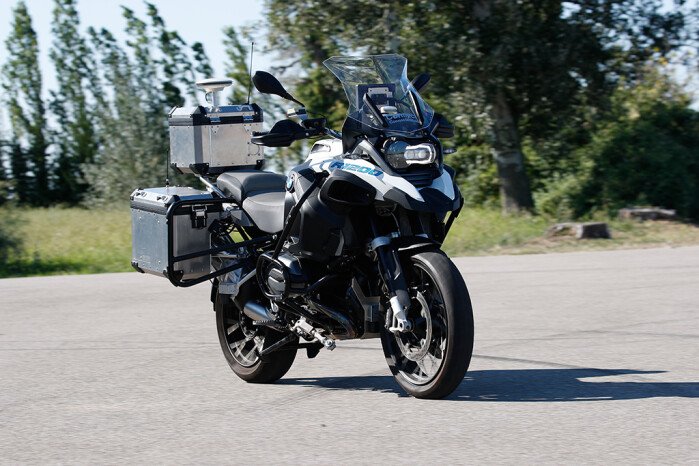 Author: David Booth
With "autonomy" being the biggest buzzword in automobiles these days (next to "electric vehicles," of course), it's little wonder that news of a self-driving motorcycle makes headline news as well. On the other hand, unlike a car that serves mostly as basic transportation, a bike that rides itself would seem a little pointless given that participation is the key attraction to riding.
Nonetheless, self-riding motorcycles are important to motorcycle manufacturers, none more so than BMW, which took a few lucky motoscribes all the way to Mirimas, France, where, in its worldwide testing facility, they took the wrappers off a motorcycle that could ride all on its own.
At first glance, the BMW R1200 GS looked pretty normal. There's the flat twin engine, the semi dirt bike profile and even a set of those big square aluminum luggage cases that all hardcore "adventure" riders insist is necessary to carry their water bottles when they go on tour.
The Hardware Needs Work
Open up those cases and there's something special inside. You see, all three cases -- both side cases and the huge top case -- are absolutely filled with electronics, wires and hard drives everywhere. Gauges and switches, too. Even something that looks like an iPad.
Now, twenty years ago, all this hardware might have been recording data -- it really took that much space for recording electronics in the development phase back then. But, nowadays, the data acquisition portion of all that high-tech gadgetry would probably fit in the thumb drive you could carry in your back pocket. Nope, all this hardware wasn't recording anything. It was driving something.
No need for human control
Alright, it was riding something. And that something is BMW's completely autonomous motorcycle, the very R1200 GS I was poking and prodding. Yes, this completely re-engineered -- heck, reimagined -- GS rides itself.
As I mentioned, though, there's not really much point to a self-riding motorcycle. At least not a commercially-viable reason. The reason to ride a motorcycle, after all, would seem to be the doing not the watching.
But BMW's riderless GS engineer, Stefan Hans, agrees with this, as he developed this technology to match the impressive statistics seen over the years as cars gain more advanced automatic drive-assistance systems. It's time motorcycles get such advanced safety technology.
Are autonomous motorcycles in BMW's future?
So, despite now having the ability to ride themselves, two-wheelers are not necessarily going rider-less, according to BMW. Instead, the company sees these new technologies as a useful tool in developing future technologies that can alert riders of impending doom. For instance, Hans showed us how, by simulating situations using a computer-controlled bike, BMW can design systems to alert the rider to the best trajectory to circumvent dangerous situations like cars stopped in the middle of curves, cross traffic and even vehicles completely obscured from both human and computer vision.
One cautionary note is that these safety technologies will not be production ready for quite some time. The gear required to automate the R1200 GS, for instance, really did fill its luggage to the brim, and the 5G cell network BMW envisages as necessary for effective vehicle-to-vehicle (V2V) communications will not be ready for quite some time.
An electric BMW motorcycle
What we might be riding a little sooner, however, is an electric BMW motorcycle. Though not part of the official presentation, BMW seems to have an electrically powered protype in production. We couldn't get the full details about the prototype, but we did glean a little information from our quick viewing:
Firstly, this two-wheel BMW EV looks like a combination of Victory Empulse battery pack and a BMW running gear. Secondly, it's even more silent than most electric vehicles, the only sound being air rushing past bodywork. And lastly, it was rapid, the electric motor's instant torque easily visible in its superbike-like exit from corners.
But again, don't expect this -- or a self-driving motorcycle, for that matter -- to be in a BMW dealership any time soon. It's not even listed in BMW's product portfolio that they've scheduled all the way to 2021.
Published Oct 24th, 2018
More Motorcycle News & Article Categories:
Related Articles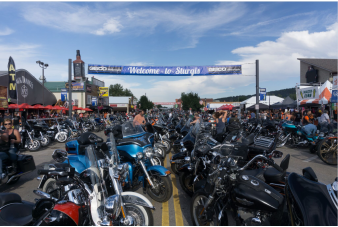 A trip to motorcycling's biggest gathering can be great. Or horrifying. Or both.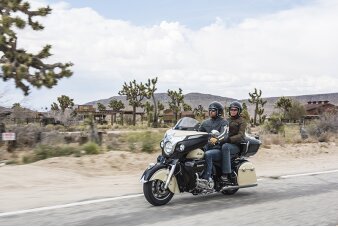 Look out, Electra Glide. The 2017 Indian Roadmaster is on your trail, and it's a luxurious, comfortable ride.
Related Motorcycles
×
BMW Experiments With Self-Riding Motorcycle