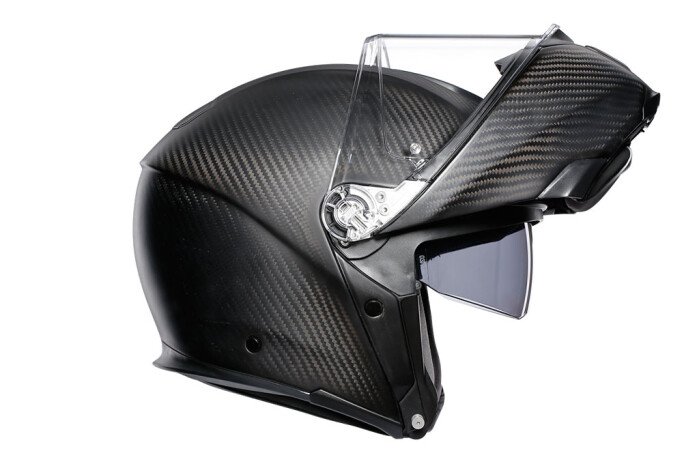 Author: Eric Brandt
Modular helmets are traditionally for touring. If you look at most of the modular helmets on the market, they're often big, heavy and sometimes just too complicated. Until now, if you wanted a helmet more oriented towards sport riding, you had to forgo the perks of a modular helmet. That's why AGV has come out with the Sportmodular helmet, which is intended to combine the performance of a full-face helmet with the comfort of a modular helmet.
What's a Modular Helmet?
Before we dig into the details, let's cover what exactly a modular helmet is. A modular helmet is a motorcycle helmet with full-face coverage and is able to swing open to make it like an open-face helmet. Modular helmets are hinged around the middle of the sides of the helmet making it easy to open the face, which is sometimes a nice alternative to removing the helmet while doing things like pumping gas or even just sitting at a red light to get some air on your face and avoid fogging up your visor.
Comfy and Sporty
The AGV Sportmodular takes this idea and makes it lighter and sportier. The shell and chin of the helmet are made entirely from carbon fiber and its total weight is just under three pounds. In my experience with the Sportmodular, its lightweight construction made it easy for long-distance riding without ever feeling bulky or heavy. Normally modular helmets are pretty heavy because of the extra pieces it has compared to a normal full-face helmet, but with this AGV lid, you get to enjoy the conveniences of a modular without the extra weight.
The lightweight materials in the Sportmodular aren't the only things contributing to its comfort. It comes with a reversible liner with a cold side and a warm side making it a fantastic 3-season helmet. The warm side is more of a sweat-wicking material and the side for cold weather is a better insulator, helping you keep warm in the late fall and early spring. Like with any helmet, there's a breaking-in period, but once it is broken in it's a very comfortable helmet.
Like many other modular helmets, the AGV Sportmodular has a built-in sun visor that folds down inside the helmet. This is controlled with a thumb-operated switch on the bottom of the left side of the helmet which is easy to reach and use. Speaking of nice controls, the mechanism for opening the Sportmodular is one of the best we've seen. There's a big red switch right in the bottom of the front of the chin that's extremely easy to find and operate with a gloved hand. Sometimes opening a modular helmet is needlessly complicated, but AGV couldn't have made it simpler.
Premium Helmet with a Premium Price
One issue we've had with the Sportmodular is closing the helmet. It doesn't always catch the first time your try to close it and we've found ourselves needing to slam it shut while riding in order to make it close securely. Also, we've found the ventilation controls to be a bit plasticky and cheap-feeling. They're functional and easy enough to use, but we expected something a little more premium on a helmet that costs $800.
Speaking of which, ranging between $749.95-$849.95, we wouldn't call the AGV Sportmodular a value proposition, but if you're shopping for a premium helmet that truly combines the comfort of a modular helmet with the performance of a carbon fiber full-face sport helmet, this AGV is peerless.
Published Mar 15th, 2019
More Motorcycle News & Article Categories:
Related Articles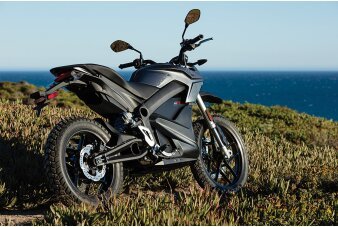 Zero's latest electric dual sport motorcycle makes its case for space in the garage.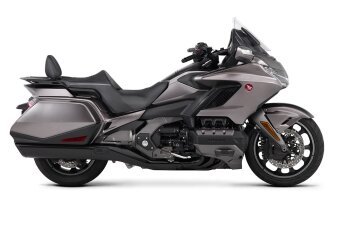 Honda redesigns its Gold Wing from the ground up for 2018
Related Motorcycles
×
Helmet Review: AGV Sportmodular