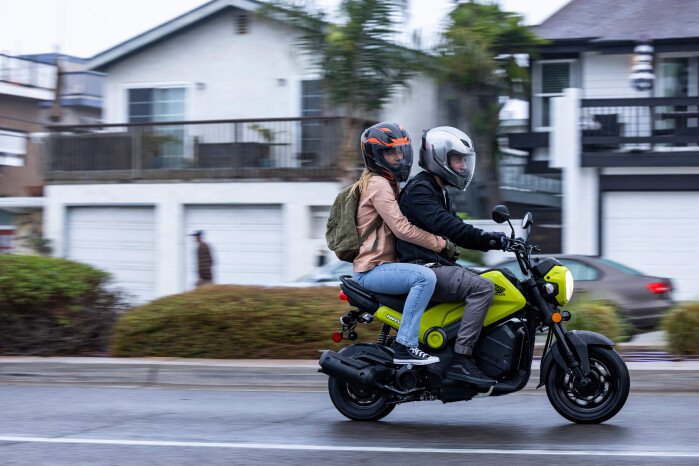 Table of Contents
Honda Navi History and Overview
First introduced to the U.S. in 2022 the Honda Navi, like the Honda Grom, is part of Honda's MiniMoto motorcycle lineup. This is the same motorcycle which debuted in India in 2016 and shares a lot of components from Honda's Activa scooter. The Navi didn't sell well in India since buyers had more options in the same price bracket, with many preferring to buy the Activa, one of the highest selling 2-wheel scooters in India.
Manufactured in Mexico, what sets the Navi apart from the other mini motorcycles in Honda's lineup is it's no-shift, automatic transmission and the shockingly low price point. How inexpensive is the Navi? It is cheaper than some electric bicycles. Honda touts the Navi as very easy to learn how to ride and extremely affordable. When you combine those traits along with Honda's proven reliability, you have a "can't miss" formula. Honda markets the Navi not as scooter or at least the powers at Honda don't consider it to be one despite it sharing some scooter-like qualities, mainly a continuous variable transmission (CVT) and a "twist and go" throttle. Sound familiar? That is exactly what the Honda Ruckus has. Should we call the Navi something new? Is the label "scootercycle" appropriate or are we reaching?
The analog instrument gauge simple, clear, and compact and in typical Honda fashion, we expect the build quality to be excellent. We expect lots of Navi owners will add lots of customization and after-market accessories for this mini-motorcycle. Detractors of the Navi will cite the lack of ABS brakes, the questionable design and styling and the fact that many scooters have more features than the Navi. But you can't get around that budget price point and we have a feeling that younger, first-time motorcycle riders, especially high schoolers and college students, will highly consider buying the Navi since it appears to be a great option as an entry-level motorcycle. We think experienced motorcycle riders will find the Navi to be a fun riding experience as a novelty bike.
What's new for 2022? Everything. The Honda Navi is a brand-new model to the U.S. market and is available in four color choices. Primarily because of its entry-level price point, we expect the Navi to be in high demand especially with first time motorcycle and scooter owners. In fact, our site traffic data shows the Navi has become one of the most searched motorcycles through the first part of 2022. Let's dive into some of the Navi's details below.
Honda Navi for Sale
Honda Navi Features
Reliable, air-cooled fuel-injected engine
One-speed, automatic continuous variable transmission (CVT)
No neutral or park
Integrated, lockable storage compartment
Electric starter
Steel frame
Single rear shock
Handlebar lock
30.1-inch low seat height allows rider to be flat footed when stopped
Drum brakes, front and rear
Helmet holders under seat
Built-in handlebar steering lock
Analog instrument panel
Two passenger seating
Telefork front suspension
Manual kick start
Available only in one trim
Source:
Honda official site
Honda Navi Specifications
Model ID: NVA110B
Model years: 2022 – Present
Engine: 109cc air-cooled single-cylinder four-stroke
Bore and Stroke: 55mm x 55.6mm
Compression Ratio: 9.5:1
Induction: Carburetor
Ignition: Full transistorized
Valve train: OHC; two valves
Drive train: Automatic CVT
Front suspension: 26.8mm inverted telescopic fork; 3.5 inches of travel
Rear suspension: Single shock; 2.76 inches of travel
Length: 71.1 inches
Brakes: Front, Drum; Rear, Drum
Tires: Front, 90/90-12; Rear, 90/100-10
Wheelbase: 50.6 inches
Seat height: 30.1 inches
Rake: 27.5
Trail: 3.2 inches
Curb weight: 236 pounds (with a full tank)
Maximum weight capacity: 344 lbs
Source:
Honda Navi manual
Honda Navi MPG, Fuel Economy and Tank Size
Honda Navi fuel efficiency:
Honda states the Nav can reach 110 mpg although owners have reported around 80-90 miles per gallon under real-world conditions. The Navi has a 0.9-gallon fuel tank capacity and there is a reserve. If you flip the reserve switch, remember to switch it back when you fill up next. Honda recommends unleaded 86 octane gas or higher.
Honda Navi Maintenance Schedule
Honda recommended service intervals for the Navi: First oil change and valve inspection at 600 miles, oil change, valve inspection and fuel strainer cleaned every 2,500 or six months. Honda recommends SAE 10W-30 oil. Refer to the owner's manual for the full maintenance schedule.
Honda Navi Price
Honda Navi New Price:
The base MSRP of a 2022 Honda Navi is $1,807. MSRP excludes a destination charge of $200 and freight surcharge of $100. For the initial model year of 2022, we've heard reports of dealer's charging over MSRP for this in-demand entry-level scooter-cycle.
Used Honda Navi Price:
Since 2022 is the first model year for the Navi, we anticipate used pricing to be equal to the price of a new model. We also expect the Navi to retain their value for several years so if you buy a new one you should be able to sell it for almost, if not what, you paid for it as a new bike.
Honda Navi Top Speed
The top speed of a stock Honda Navi is between 50 and 53 mph. Your actual top speed will vary depending on the driver's weight and road conditions.
Honda Navi Colors
There are four color combinations available for the 2022 Honda Navi. There is no price difference between the different color choices.
Red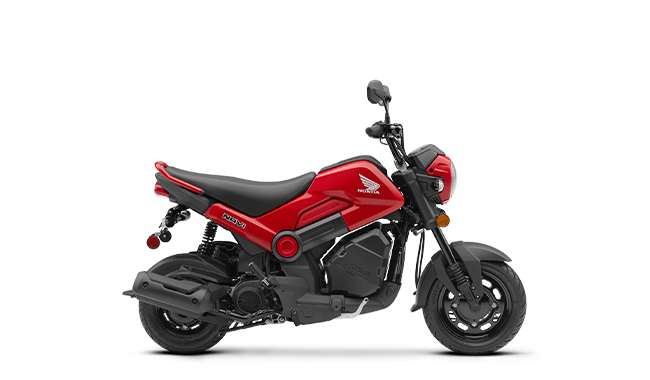 Grasshopper Green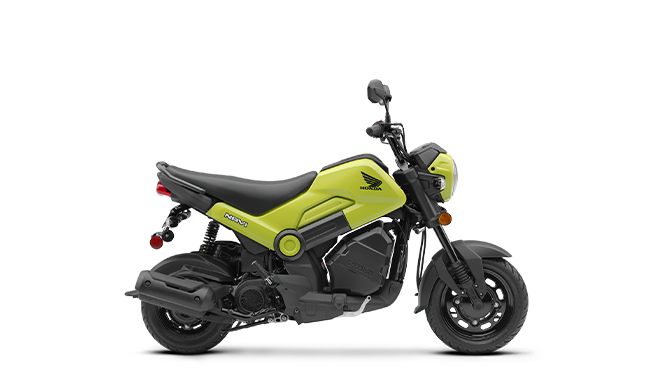 Nut Brown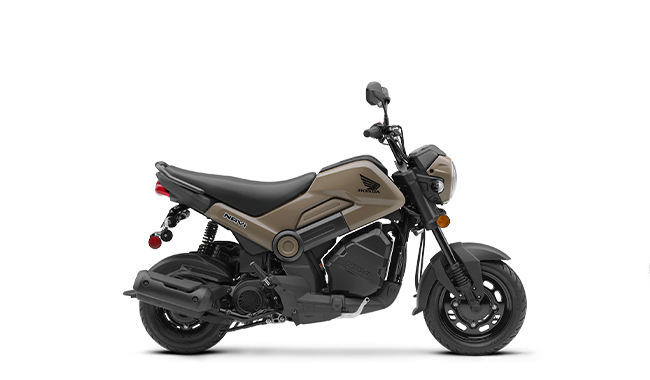 Ranger Green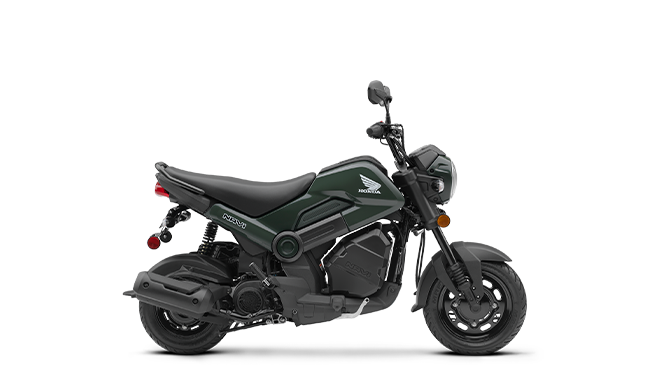 Honda Navi Warranty
A new Honda Navi includes a 1-year transferable, unlimited-mileage limited warranty.
Optional Extended HondaCare Protection Plan® Pricing and Cost
| | | | | | |
| --- | --- | --- | --- | --- | --- |
| Without Roadside Assistance | $320 | $370 | $440 | $530 | $670 |
| With 24/7 Roadside Assistance | $370 | $440 | $530 | $630 | $790 |
Source:
Honda Protection Plan
Reported Problems and Issues
Since the Navi is brand new for 2022 there haven't been enough time to discover wide-spread, systemic issues with the this model. However, some new users – particularly those not used to a bike with carburetor – have reported these issues.
At high altitudes (above 6,500ft), a rich air-fuel mixture can cause drivability problems, reduce engine performance and increase fuel consumption. Honda addresses this in the Navi's owner's manual. The solution is an easy fix; adjust the carburetor for high altitude riding.
New owners have reported starting problems: when the choke lever is set all the way down and if not enough gas is given with the brake engaged, the Navi will stall out. Owners have reported this issue going away after their Navi reaches the 200 mile mark.
Low idle issues have been reported. Adjusting the carburetor's air-fuel mixture should address this. Navi owners have found the bike prefers to be warmed up.
Pros and Cons
Pros:
Low price point
Lockable storage compartment
Easy to learn how to ride
Cons:
Drum brakes
Suspension isn't great
You get what you pay for
Honda Navi vs. Honda Grom vs. Honda Ruckus
You can't compare the Navi to the Grom. The Grom has a regular, five-speed gearbox transmission, a clutch, the Grom's engine - at 124cc - is much larger than the Navi, and at $3,399 base MSRP the Grom is nearly $1,600 more expensive than the Navi.
The Ruckus scooter on the other hand does have a "twist and go" throttle so there are no gears or clutch in its automatic transmission. The Ruckus engine, at only 49cc, is half of what the Navi's engine has in power. Although the Ruckus is comparable in length to the Navi, it is 30lbs less than the Navi. When you compare the new price of a 2023 Ruckus MSRP vs. a 2022 Honda Navi, the Ruckus will cost buyers $1,092 more.
Other Competitors
If you want a bike with more power than the Navi you may want to consider a 150cc scooter such as the Vespa Primavera 150, Honda PCX 150, Vespa GTS 300, and the Yamaha Zuma 125. Alternatively, those owners who don't want to deal with getting a motorcycle license may choose to buy a 50cc scooter, like the Honda Metropolitan, over the Navi. Other Honda motorcycles which could be an option to buy include the Trail 125 and the Monkey. But all of these can't compete with the Navi's budget friendly pricing so if your stretched for cash, the Navi may be for you.
Honda Navi Accessories
Here are some of the popular and useful Navi accessories from Honda and other suppliers that you might want to consider as well. Some owners also invest in security accessories given how light the Navi is, which makes it more susceptible to being stolen. Since the Navi is so new there aren't many accessories available outside the official OEM options.
Luggage rack
Wind Screen
Rear rack
Mobile Phone Holder Kit
GPS tracking system
Cover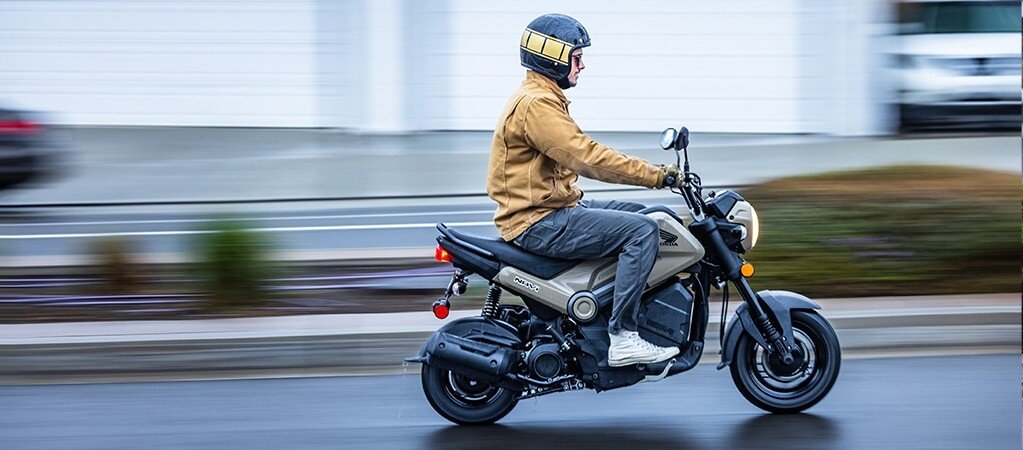 Can the Honda Navi be a Daily Driver?
This YouTuber breaks down the Honda Navi, including what modifications and accessories are possible. If you're considering buying a Navi, we'd encourage you to watch this video.
Published Jun 15th, 2022
Honda Navi Frequently Asked Questions
More Motorcycle News & Article Categories:
Related Articles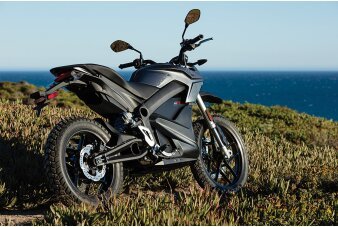 Zero's latest electric dual sport motorcycle makes its case for space in the garage.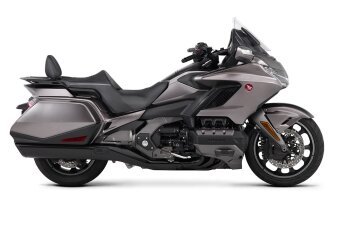 Honda redesigns its Gold Wing from the ground up for 2018
Related Motorcycles
×
Honda Navi Buying Guide