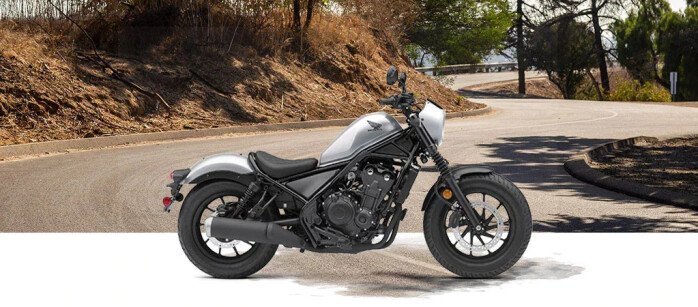 Table of Contents
Honda Rebel 500 History and Overview
The Honda Rebel 500 is known as a fantastic beginner motorcycle that allows riders to grow into it as they gain experience and confidence. If you're an intermediate rider who is comfortable with faster motorcycles, the Rebel 500 may be a bit underwhelming. But the Rebel 500 packs a high value given its modest price, the available features, and when combined with Honda's reliable parallel-twin engine. The 2022 Rebel is available in three Trims: the 500 base, 500 ABS, and 500 ABS Special Edition (SE).
First released in 1985, the Rebel's predecessor was the 1986 – 1987 CMX450. The Honda Rebel series are among some of Honda's most popular street motorcycles and visitors to our site agree; searches for the other current Rebels, the 300 and 1100, are consistently some of the most often sought after but of all three Rebel models, the 500 is by far the most popular. The Rebel 500 joins Honda's other cruiser models for 2022: the Fury, Shadow Phantom, and the Shadow Aero.
Sure, you could get a motorcycle with more total power output than the Rebel 500's 471cc engine but compared to Honda's other Cruiser motorcycles, other than the Rebel 1100, the Rebel 500 has the highest power-to-weight ratio at 0.113 HP per pound. Potential buyers should know the engine in the Rebel 500, which was first developed in 2013, is shared between Honda's CBR500R and CB500F models. Weighing just over 400lbs, the Rebel is lightweight which contributes to its easy handling and steering; another factor that beginners will find appealing.
Riders who are 5'11" or shorter will feel very comfortable on the Rebel 500 given its extremely low seat heat that allows you to be flat-footed at a standstill. Combined with its previously mentioned low weight and you get a motorcycle that is very approachable for those looking for an entry-level, first motorcycle. But the Rebel 500 is not perfect if we're going to be honest. There is no storage, no 12V accessory socket, no cruise control, no dual-clutch transmission (DCT) option, the exhaust is very quiet, seating is only for one unless you add an optional passenger seat accessory, the rear suspension is average, it has a small gas tank, the ergonomics are not ideal for taller riders and the top-end power is underwhelming.
What's new for 2022? Compared to the 2021 Rebel 500, each of the three 2022 500 versions are $100 more expensive. The colors have changed as well; gone is the Matte Pearl White in exchange for Pearl Organic Green and Matte Silver. Other than that, the specifications and features are completely the same between both the 2021 and 2022 model years so if you're thinking about a 2021 model, most of the information below still applies.
Our final verdict: If you're looking for a medium-sized, lightweight, and affordable entry-level cruiser the Rebel 500 may be perfect for you. If you're a taller, more experienced rider the 500 might leave you wanting a more powerful bike.
Honda Rebel 500 for Sale
Honda Rebel 500 Features
Parallel twin-cylinder, liquid-cooled four-stroke engine
Six-speed transmission
Blacked-out engine and frame, muffler
Digital LCD instrument gauge
Four-bulb headlight
All LED light package
Digital gear position indicator
Available in three color choices
ABS SE trim comes in only one color
Steel rear fender
Nitrogen-filled rear suspension
Available in three trims
Widebody 41mm fork
Widebody front wheel
Kick stand
Low rider seat position
Optional passenger seat and foot pegs
Aluminum subframe and fender
Cast aluminum wheels
Hydraulic disc brakes; optional ABS
Slipper assisted clutch
Source: Honda official site
Honda Rebel 500 Specifications
Model ID: CMX500 / CMX500A, CMX500A2 (ABS versions)
Model years: 2017 – Present
Engine: 471cc liquid-cooled parallel-twin four stroke
Bore and Stroke: 67mm x 66.8mm
Induction: PGM-FI
Ignition: Full transistorized ignition
Compression Ratio: 10.7:1
Valve Train: DOHC; 4 valves per cylinder
Transmission: Six-speed
Electric starter
Front Suspension: 41mm fork; 4.8 inches of travel
Rear Suspension: Dual shocks with 3.8 inches of travel
Brakes: Hydraulic disc, front, and rear (optional ABS)
Tires: Front, 130/90-16; Rear, 150/80-16
Rake: 28 0'
Trail: 4.3 inches
Wheelbase: 58.7 inches
Seat heat: 27.2 inches
Curb weight: 408lbs (with a full tank). 414 - 417lbs (ABS trims)
Maximum weight capacity: 346lbs
Final drive: O-ring-sealed chain. #520 Chain; 15T/40T
Length: 86.8 inches
Width: 32.3 inches
Source: Honda Rebel manual
Honda Rebel 500 MPG, Fuel Economy, and Tank Size
Honda states the Rebel 500 earns 67 miles per gallon, but we saw numerous reports from actual owners who experienced up to 70 miles per gallon under real-world conditions. The Rebel 500 has a 2.96-gallon fuel tank with a 0.6-gallon reserve. You should be able to travel approximately 198 miles on one tank of gas before the reserve kicks in. Honda recommends unleaded 86 octane gas or higher.
Honda Rebel 500 Maintenance Schedule
Honda recommends the following Rebel items should be replaced at the following mileage increments. Please note that this is not a comprehensive maintenance schedule like that found in the Honda Rebel 500's owner manual.
Item to Replace
Mileage Frequency
600
4,000
8,000
12,000
16,000
20,000
24,000
Air Cleaner
R
R
Crankcase Breather
C
C
C
C
C
C
Spark Plug
R
Engine Oil
R
R
R
R
Engine Oil Filter
R
R
"R" denotes the item should be replaced while "C" denotes item should be cleaned.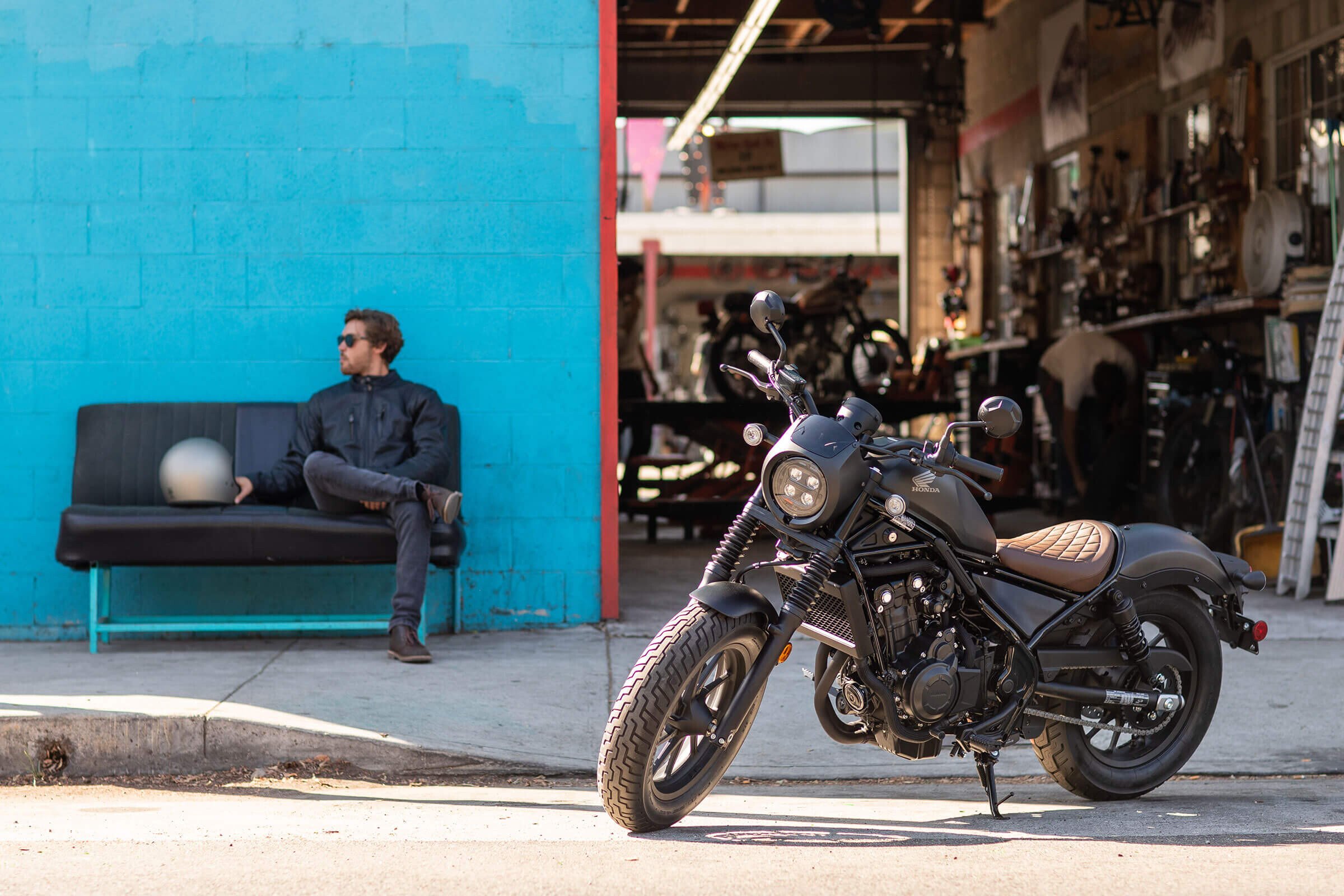 Honda Rebel 500 Price
Honda Rebel 500 New Price:
The base MSRP of a 2022 Honda Rebel 500 is $6,399 for the base 500, $6,699 for the Rebel 500 ABS, and $6,899 for the Rebel ABS SE. MSRP excludes license, registration, destination charge, freight surcharge and dealer-installed options. Including all dealer fees, local tag, and taxes, the out-the-door cost could end up being $8,000 to $8,750 depending on the model you buy. With a high demand and low inventory due to supply chain issues, we have heard reports on various online motorcycle forums of some dealers charging over MSRP.
Used Honda Rebel 500 Price:
The 2022 Rebel 500 is the 6th model year and because of a crunch on available new inventory driven by supply chain issues, used pricing is going to be equal to or even greater than the price of a new model. When we analyzed actual used Rebel 500 prices on our site, we regularly found 4-year-old models with asking prices between $5,500 and $5,900 while prices of a 2021 Rebel 500 were asking more than the price of a 2022 new model. Keep in mind, that prices of used motorcycles have mimicked what has happened with used car prices since 2021.
Honda Rebel 500 Availability
Numerous online forms, such as hondarebel3forum.com and reddit, are filled with anecdotal reports of potential buyers who are struggling to find available 500s to purchase. High demand has been compounded by chip shortages and supply chain issues and the result is a negative impact on availability of these in-demand motorcycles.
Given the demand and short supply, we've heard consistent reports of six month wait times on new orders. Your best bet is to call numerous Honda dealers to see what is in stock. We saw one report of a serious buyer who drove 10 hours round trip buy a Rebel 500. Chances are that most of the new Rebel 500s will already have a deposit and are spoken for.
Honda Rebel 500 Top Speed
At the top end of the price scale, a premium El Camino will cost between $55,000 to $95,000. Within the higher priced examples, we found many available listings around $60,000. If you're on a budget, we think there may be opportunities in the $35,000 or less price range. If you're seeking a total project car, you can buy a fixer-upper for less than $20,000.
Honda Rebel 500 Color
There Rebel 500 and Rebel 500 ABS share the same color options of Pearl Organic Green and Matte Gray Metallic. The Rebel 500 ABS SE comes in only one color, Matte Silver.
Pearl Organic Green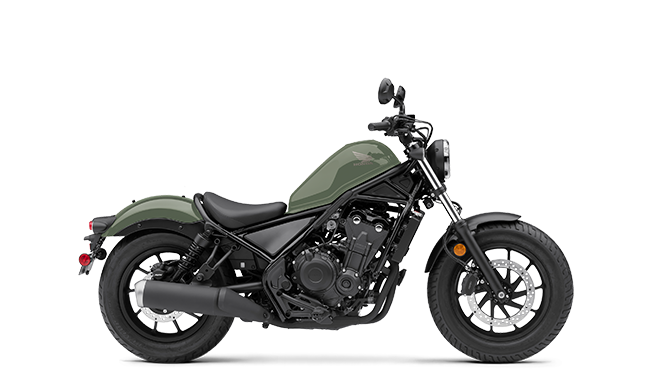 Matte Gray Metallic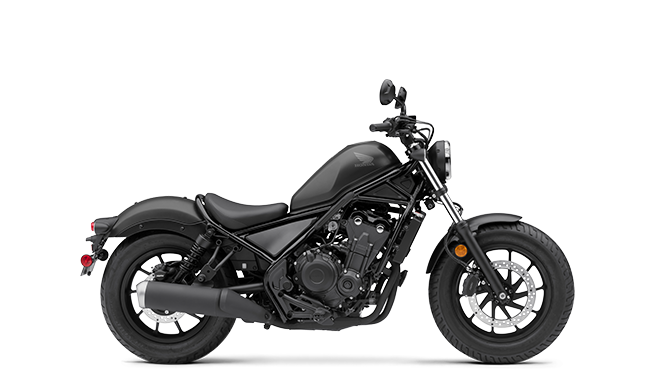 Matte Silver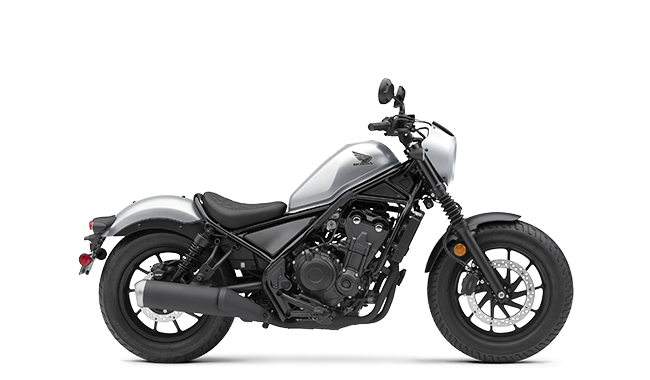 Honda Rebel 500 Warranty
| 251cc – 500cc engines | 12 months | 24 months | 36 months | 48 months | 60 months |
| --- | --- | --- | --- | --- | --- |
| Air Cleaner | $370 | $420 | $490 | $580 | $720 |
| With 24/7 Roadside Assistance | $420 | $490 | $580 | $680 | $840 |
Source: Honda Protection Plan
Reported Problems and Issues
As of early June 2022, there have not been any official recalls from Honda on the 2021-2022 Honda Rebel 500 and the most common issue we found was about leaking coolant. The solution for fixing a coolant leak on a 500 is a new water pipe, flange, and 0-rings.
Pros and Cons of the Rebel 500
Pros:
Classic styling and design
Very customizable
Easy to handle
Corners well
Excellent first motorcycle
Bulletproof engine
Digital gear indicator on gauge
Cons:
Exhaust too quiet
No storage
Rear suspension not the best
Not ideal for taller riders
Seat not comfortable for long distances
Lacks different drive modes
Small gas tank size
ABS vs. Non-ABS Version
ABS primarily serves to keep the tires from coming to a complete stop so it will allow the rider to maintain greater control during a short notice braking scenario, mainly by preventing skidding. There is a reason why ABS has been standard on passenger cars in the U.S. since 2012.
If you've been riding a motorcycle without ABS for some time, and are an experienced rider, you most likely won't miss it. However, we would always recommend a motorcycle with ABS over a non-ABS bike. For an additional, $300 we think the safety is well worth the minimal additional cost, especially if you live in a climate where it rains often, or the roads can get slippery.
Between the two ABS versions of the Rebel 500, if you care about the color choices, the Matte Silver option on the 500 ABS SE looks extremely sharp. The ABS SE version also includes a factory installed custom accessory package. Other than those two items, the ABS SE and ABS are the same.
Honda Rebel 300 vs. 500
Both motorcycles share the same chassis frame design but the 300 costs $2,000 less and is 44lbs lighter. Both the 300 and the 500 are available in an ABS option. Although they have a comparable gas tank size, the 300 does edge out the 500 in terms of fuel efficiency; Honda states the 300 earns 78mpg compared to the 500's 67mpg.
The 300 has a single cylinder four-stroke 286cc engine while the 500 engine is a parallel-twin four-stroke 471cc engine. If you are searching for a truly lightweight cruiser and want to save $2,000, the 300 would make an excellent choice.
Honda Rebel 1100 vs 500
The Rebel 1100 is a faster, more powerful, and wider motorcycle than the 500. With a 1,084cc parallel-twin engine and a piggyback suspension, the 1100 delivers a more complete riding experience than the 500. The 1100 is roughly 80lbs heavier, $3,000 more expensive, has a larger fuel tank capacity, improved braking, an instrument panel which provides more information to the rider, has storage and the rear tire is much wider than the 500.
The seat height and wheelbase are comparable between the two bikes. With 81hp total power output, the top speed of an 1100 is 140mph compared to the 500's top speed of 95mph. The automatic Dual Clutch Transmission (DCT) version of the 1100 has been noted as being silky smooth, responsive and worth the minor additional expense. Rebel 1100 owners have reported earning 41mpg. We also love the different rider modes and cruise control on the 1100 which are not offered on the Rebel 500.
Like the 500, critics have dinged the 1100 for its ergonomics and riding comfort in city riding. If you're looking for a larger, more powerful, and meatier motorcycle, you might want to consider the Honda Rebel 1100 over the 500 but all that comes with a heftier price tag.
Other Cruiser Motorcycles to Consider
Other cruiser motorcycles to consider which have a comparable engine size and cost around the price of a Rebel 500 include a Yamaha Bolt, a Royal Enfield (INT650), a used Harley Davidson Street 500 and a Kawasaki Vulcan 650, although the Vulcan has a slightly larger engine. Kawasaki did once produce a 500 series motorcycle featuring a parallel twin 498cc engine but it was discontinued after the 2009 model year.
Honda Rebel 500 Popular Accessories
Here are some of the popular and useful accessories for the Rebel 500 that you might want to consider.
Black Diamond Stich Seat
Black Fork Boots and Covers
Headlight Cowl
Passenger Backrest
12V Accessory Socket
Adjustable Brake Lever
Rear Carrier
Passenger Seat
Is the Rebel 500 the Best Cruiser for $6,000?
YouTuber HondaPro Kevin breaks down all the specs, features, and changes for the 2022 Rebel 500.
Published Jun 29th, 2022
Honda Rebel 500 Frequently Asked Questions
More Motorcycle News & Article Categories:
Related Articles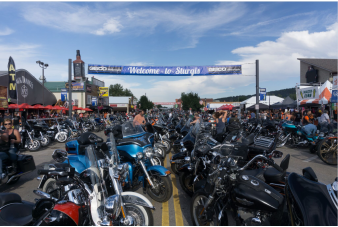 A trip to motorcycling's biggest gathering can be great. Or horrifying. Or both.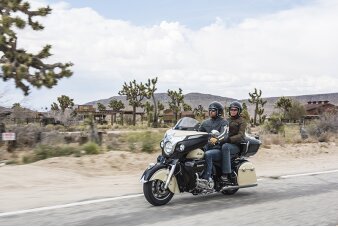 Look out, Electra Glide. The 2017 Indian Roadmaster is on your trail, and it's a luxurious, comfortable ride.
×
Honda Rebel 500 Buying Guide