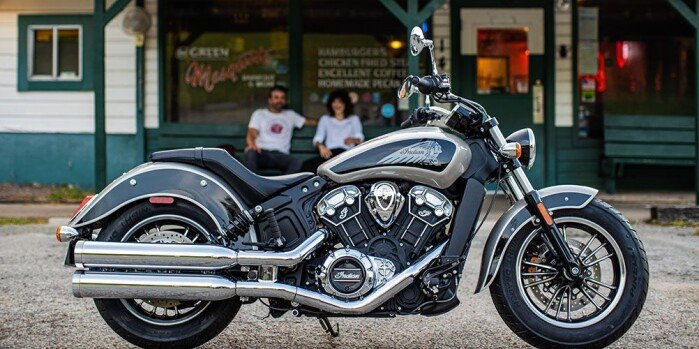 Table of Contents
History and Overview
Although the Indian Motorcycle Company was founded in 1901, the first Scout prototype model called the G-20 wasn't produced until 1920. In the years after the G-20 was released, many of those early Indian Scout models were regularly used by stunt motorcycle riders during the traveling motorcycle thrill show known as the Wall of Death. These early Scout models still are highly coveted by collectors to this day. In fact, at a 2015 auction, a 1927 modified Scout model used in those extreme stunt shows sold for just over $22,000. Some critics and collectors consider the 101 Scout, which was produced from 1928 to 1931, to be among the best Indian motorcycle ever produced. Even today there are new examples of retro Scouts being made, like Alfredo Juarez's custom Bobber or this restomod Scout, both of which give a design nod to those early model years.
Aided in part by the company's mass production efforts during World War II, the Indian Scout, just like the Indian Chief, became one of the most iconic and popular motorcycles ever made. After the war, the company went through dark times because of mismanagement, bad timing, and even poorer executive decision-making, but since being acquired by Polaris in 2011, the brand and the Scout have seen a resurgence. Despite the rocky history, there is certainly a mystique associated with Indian Motorcycles and it is considered a premium brand.
The current Scout, which is Indian's entry-level cruiser, was reintroduced to the U.S. market in 2015 and for 2022 there are five Scout models: the Scout, Scout Bobber, Scout Bobber Twenty, Scout Sixty, and Scout Bobber Sixty. These present-day Scouts still share some of the characteristics which made those early Scouts so appealing: easy to ride, and a timeless retro design.
The Scout, which is manufactured in the United States, is a middle-to-heavy cruiser bike and is best equipped for medium-distance trips. The seating position is fairly low, even lower than the Rebel 500, allowing even smaller riders to be flat-footed at a standstill. The liquid-cooled, 100-hp V-twin engine has been described by multiple critics as "punchy", delivering instant acceleration when needed while the 6-speed transmission is sporty and aggressive. We're particularly pleased with the ability of the Scout to cruise at low speeds as well. Critics will complain that the Scout has been pretty much unchanged since 2016 and that the suspension has a lot to be desired.
We think the Scout is best suited for intermediate riders who are used to forward controls and a low-slung cruiser seating position. Beginners who are deadest on buying an Indian Scout may want to consider the lower displacement Scout Sixty. If you prefer a more straight-up riding stance, you might not enjoy the Scout over the long run. The bike can be a little squirrely since the stock tires don't grip as well as they could. If it were up to us, we'd upgrade the suspension and the tires on the Scout. If you don't need seating for two, the Scout Bobber may be a great option and this model has attracted a devoted fanbase. Plus, we must admit that the aggressive styling of the Bobber caught our eye.
What's new for 2022? The most noticeable differences between 2021 and 2022 are the new color options and the availability of additional accessory options such an adjustable piggyback rear suspension, a two-up seat, analog tachometer, and an adaptive LED headlight. Below, we'll dive into the Scout's features, specifications, pros and cons, fuel economy, its price, other motorcycles you might want to consider buying, and where you can buy one.
Indian Scout for Sale
Availability and Wait Times
In March 2022, Indian was estimating 3+ months for new orders to be shipped from the factory but we've seen wait times of 4 - 6 months or more for a new Scout. We've also heard from a few Scout owners who have been quoted almost 9 months for delivery of their new bike. These supply-chain issues and low inventory availability coupled with high demand have impacted used prices to increase since the Pandemic.
In July 2022, Indian changed their communication process on new orders and is now communicating expected ship dates for all open pre-sold orders. Prior to this, presold orders were done with a PDF process and owners could not see their scheduled ship date until they were 45 days out from delivery.
Indian Scout Features
Liquid cooled, 100HP v-twin engine
6-speed manual transmission
Leather two-up seating
Passenger pegs standard
Low rider seat position
Kick stand
USB charging port
ABS brakes standard
Electronic fuel injection
Chrome accents
Available in four color choices
Gauges: Digital tachometer, odometer, trip meter, engine temp and low fuel lamp
Lightweight, cast aluminum frame
Source:
Indian official site
Indian Scout Specifications
Current model years: 2015 – Present
Displacement: 69 cubic inches (1,133cc)
Bore and Stroke: 3.898in x 2.898in
Drive: Wet, Multi-Plate
Injection: Electronic. Closed loop. 60mm Bore.
Exhaust: Split dual exhaust w/ cross-over
Horsepower: 100 HP
Peak torque: 72-ft-lbs
Peak torque RPM: 5,900 rpm
Transmission/Final drive: 2.357:1
Transmission/Primary drive: Gear drive wet clutch
Ground clearance: 5.7 inches
Lean angle: 31 degrees
Seat height: 25.6 inches
Length: 91.5 inches
Width: 36.1 inches
Height: 42 inches
Weight: 541lbs (empty tank), 561lbs (full tank)
Wheelbase: 62 inches
Rake/Trail: 29 degrees / 4.7 inches
Front brakes: 298mm rotor, 2 piston caliper
Rear brakes: 298mm rotor, 1 piston caliper
Front tire: 130/90B16 67H Pirelli Night Dragon
Rear tire: 150/80B16 77H Pirelli Night Dragon
Front Suspension: 41mm telescopic fork; 4.7 inches of travel
Rear Suspension: Dual shocks with 3.0 inches of travel
Source:
Indian Scout
Indian Scout MPG, Fuel Economy, and Tank Size
Although Indian doesn't disclose an official miles per gallon for the Scout, owners have regularly reported earning between 45 – 50 miles per gallon under real-world conditions. A few owners reported an average as low as 40mpg while others claimed as high as 52mpg. The Indian Scout has a 3.3-gallon fuel capacity. You should be able to travel approximately 120 - 150 miles on one tank of gas. Indian recommends 86 octane gas or higher. It'll cost you almost $17 to fill up a tank at $5.00 a gallon.
Indian Scout Maintenance Schedule
The Indian Scout owner's manual outlines the below noted items should be replaced or inspected at the following mileage increments. Please note that this is not a comprehensive maintenance schedule and owners should refer to the manual. Indian recommends Indian Motorcycle synthetic blend 15W-60 for the Scout, which is formulated with a synthetic-based oil and premium engine additive.
Item
Mileage Frequency
 
500
2,500
5,000
10,000
15,000
20,000
25,000
30,000
Air Filter
I
I
R
I
R
I
R
Brake Fluid
I
I
I
R
I
R
I
R
Brake Pads
Drive Belt
I
I
I
I
I
I
I
R
Engine Oil
R
R
R
R
Engine Oil Filter
R
R
R
R
Front Fork Oil
I
I
I
R
I
I
R
Fuel Filter
R
Spark Plugs
I
I
R
Legend: "R" denotes the item should be replaced while "I" denotes item should be inspected.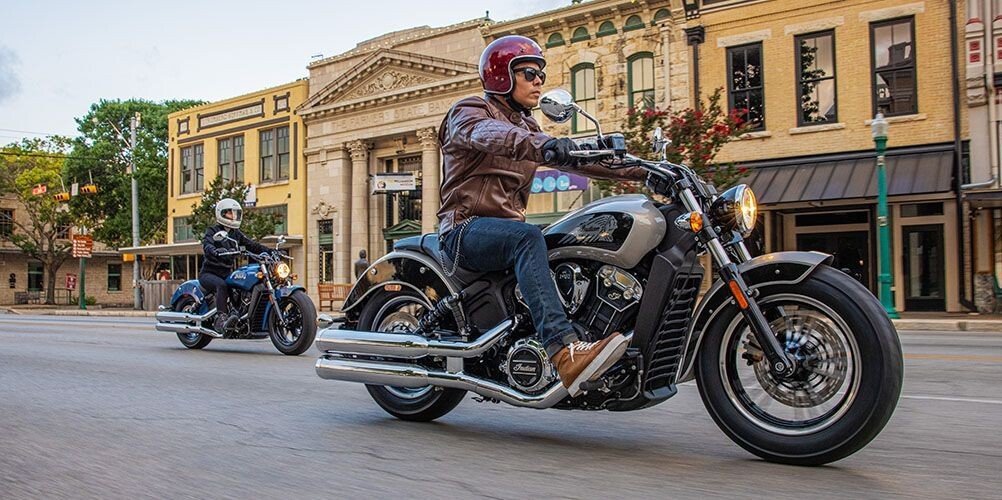 Indian Scout Price
New Indian Scout Price:
The MSRP of a 2022 Indian Scout ranges from $13,249 to $15,649. MSRP excludes license, registration, a $500 logistics surcharge, destination and handling fees, and any dealer-installed options. The starting price of a Scout depends on the color choice and whether it comes with ABS or Indian's "icon" paint. Refer to the table below.
| Scout MSRP | Color | ABS |
| --- | --- | --- |
| $13,249 | Black Metallic | N |
| $14,149 | Black Metallic | Y |
| $14,649 | Maroon Metallic | Y |
| $14,649 | White Smoke | Y |
| $15,149 | Silver Quartz Metallic/Black | Y |
| $15,649 | Icon Riot Orange/Black | Y |
| $15,649 | Icon Blue Slate Metallic/Silver | Y |
Used Indian Scout Price:
The current version of the Indian Scout is in its 8th model year and because of limited availability of new models driven by pandemic supply chain issues, used pricing are equal to or even great than the price of a new model. When we analyzed actual Scout prices on our site, we regularly found 2016 – 2020 models with asking prices between $8,000 and $11,500. On the higher end of the used prices, we found several 2019 or newer models listed between $13,000 to $17,000, depending on the exact model and installed options.
Other Scout Models: Bobber, Rogue, Sixty
Here is a high-level overview of the seven 2022 Scout Models compared to each other. All starting prices are for the non-ABS models. The least expensive ABS version of each model will cost an additional $900 above the MSRP stated below. If you're down to two very comparable models, the specifications will most likely be very similar so your choice may come down to aesthetics and design details.
| Model | MSRP | Displacement | HP | Transmission | Peak Torque |
| --- | --- | --- | --- | --- | --- |
| Scout Bobber Sixty | $10,749 | 1,000cc | 78hp | 5-speed | 65 ft-lbs. |
| Scout Rogue Sixty | $11,249 | 983cc | 78hp | 5-speed | 65 ft-lbs. |
| Scout Sixty | $11,749 | 1,000cc | 78hp | 5-speed | 65 ft-lbs. |
| Scout Bobber | $12,249 | 1,133cc | 100hp | 6-speed | 72 ft-lbs. |
| Scout Rogue | $12,749 | 1,133cc | 100hp | 6-speed | 72 ft-lbs. |
| Scout Bobber Twenty | $13,249 | 1,133cc | 100hp | 6-speed | 72 ft-lbs. |
| Scout | $13,249 | 1,133cc | 100hp | 6-speed | 72 ft-lbs. |
Indian Scout Top Speed, 0-60mph
The top speed of a stock Indian Scout is around 115-120 mph. Some owners have reportedly unlocked their Scout's governor and achieved a 130mph top speed, but our lawyers tell us that we wouldn't advise anyone to do that.
We've seen a few YouTube videos of Scout owners who have reached 0-60 mph in approximately 5.02 seconds and 0-100 mph in 6.21 seconds. None of these times are precise so it is up to you if you think that is fast enough or not.
Indian Scout Colors
The 2022 Indian Scout comes in seven different colors. ABS is available in all color choices.
Indian Scout in Black Metallic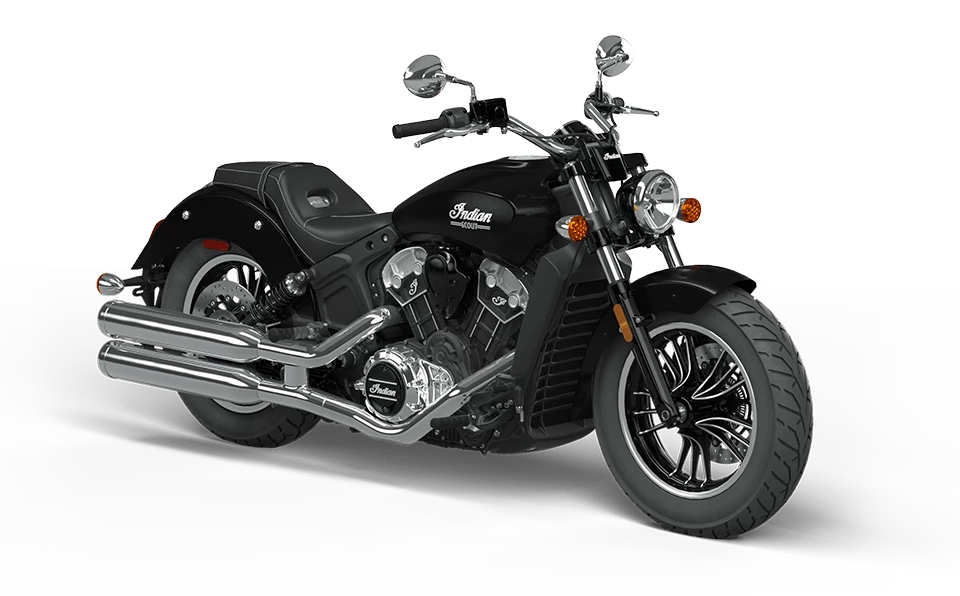 Warranty
A new Indian Scout includes a 2-year, unlimited-mileage transferrable warranty. Indian also sells optional protection plans which covers major components and covers against major mechanical breakdowns. The protection plan is available in one-, three-, four-, and five-year options. To receive protection plan pricing, you'll need to enter in your VIN at www.protectmyindianmotorcycle.com.
Reported Problems and Issues
The Indian Scout is a very reliable American motorcycle and generally there have not been many widespread problems with this model. Of course, every mass-produced vehicle could have some issues. Here is what we've heard.
As of July 2022, there are no recalls for any of the 2022 Scout models.
In September 2021, Indian recalled some 202 Scout Bobber Sixty which exhibit a loss of brake light functionality following an engine controller service update.
In August 2020, Indian issued a recall on some 2017-2019 Scout, Scout Sixty and Scout Bobber motorcycles equipped with ABS.
A maintenance notice was issued for 2021 model year as the negative battery wire was installed backwards which would blow out all electricals.
Loose clutch cable during the break in period that results in not being able to shift into neutral when coming to a stop. Riders will have to shut the engine off in 1st gear, then shift to neutral. Adjusting the clutch cable to ensure the right amount of free play will resolve this.
Indian Scout Pros and Cons
Pros:
Classic styling and design
Responsive and nimble
Surprisingly, easy to handle
Smooth shifting
ABS standard on all color options
Cons:
Underwhelming suspension
Stopping power could be better
Not best at tight corners
Not the best fit for tall and big riders
Stock seat isn't comfortable
What needs to change on the Scout?
Of all the possible changes Indian could make to the Scout we think the following list of candidate changes should be considered: increase the gas tank size, improve the suspension, add cruise control, improve the brakes, angle the kickstand further forward, mid mount foot controls, and allow for different riding modes. Lastly, would a 1,300cc Scout have enough demand from buyers? We think a higher priced Scout would still see plenty of demand. Plus, isn't the Scout due for an update?
Indian Scout ABS vs. Non-ABS Version
ABS keeps the tires from coming to a complete stop, allowing the rider to maintain greater control during a short notice braking scenario, mainly by preventing skidding. There is a reason why ABS has been standard on passenger cars in the U.S. since 2012.
We would always recommend a motorcycle with ABS over a non-ABS bike. For an additional $900 we think the safety is well worth the additional cost to buy a Scout with ABS, especially if you live in a climate where it rains often, or the roads can get slippery. If you opt for the ABS version of any Scout model, you'll able to pick from a much larger number of color choices.
Other Motorcycles to Consider
The Honda Shadow Phantom is very similar to the Scout in size, riding position, weight and center of gravity but the Shadow has a smaller displacement. The Scout is a more premium-tier bike in terms of design and finishes. The Honda Rebel 1100, which does off an optional DCT transmission and is known for their consistent reliability is another Honda model which may warrant your consideration. The Scout has 100hp compared to the Rebel 1100's 86hp.
Other motorcycles you may want to consider includes the Harley-Davidson Sportster or the Victory Octane which shared a lot of components with the Scout but has become difficult to find since it was discontinued in 2017. Lastly, the Yamaha Bolt, and Triumph Bonneville 1200 Bobber may be two other bikes you might be interested in.
Popular Accessories
Here are some of the popular and useful accessories that we think make sense to outfit your Scout with.
Passenger foot pegs (Black)
Low profile passenger pad
Quick release lockable trunk base
LED driving lights
Leather saddlebags
Saddlebags
Which Indian Scout Should You Buy?
Each Scout has style and attitude of its own.
Published Jul 27th, 2022
Indian Scout Frequently Asked Questions
More Motorcycle News & Article Categories:
Related Articles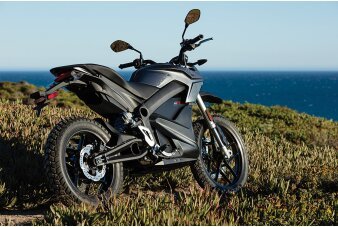 Zero's latest electric dual sport motorcycle makes its case for space in the garage.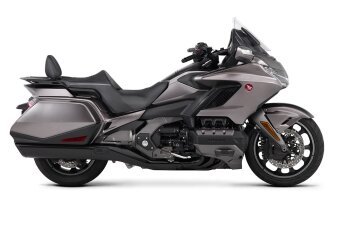 Honda redesigns its Gold Wing from the ground up for 2018
Related Motorcycles
×
Indian Scout Buying Guide