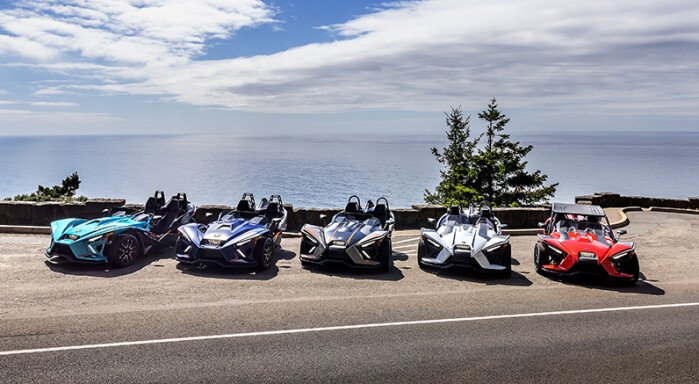 Table of Contents
Polaris Slingshot History and Overview
Polaris Slingshot for Sale
What's New for 2022?
Polaris Slingshot Features
Polaris Slingshot Specifications
Polaris Slingshot MPG, Fuel Capacity and Fuel Type
Polaris Slingshot Price
Polaris Slingshot Top Speed
Polaris Slingshot Colors
Polaris Slingshot Accessories
Pros and Cons
Competitors to Consider
Frequently Asked Questions About the Polaris Slingshot
Polaris Slingshot History and Overview
Born as a prototype designed by Polaris engineers in 2010, the Slingshot was introduced to the U.S. in 2014 as a 2015 model year. A three-wheeled, open-air autocycle with a low center of gravity and a no-lean driving experience, the Slingshot has become one of the most popular models on our site. Detractors of the Slingshot will point to its polarizing design with its angular, aggressive, and unique styling, while some consumers are confused as to whether the vehicle should be classified as a car or a motorcycle. Technically, the Slingshot is classified as an autocycle since the driver and passenger sit down, and the controls are very much like a car. Prior to 2020, all Slingshots were powered by a GM Ecotec engine which was the same engine found in the Chevy Cruze and a few other small GM passenger vehicles. Polaris started using its own engine in 2020.
Reviewers have pointed out that the Slingshot has the downside of a motorcycle (noise, exposed to the elements) plus the downside of a car (car size dimensions, mediocre handling). Depending on how you view a car that has motorcycle qualities, maybe this is the type of driving experience just for you. Of course, the Slingshot is better suited for climates with plenty of sun, which is why you'll find a lot of them in southern California, Arizona, and Florida. Regardless, Polaris has created a vehicle with a unique driving experience, and consumers have raved about how fun they are; maybe this explains their popularity in the rental space. Is this a novelty vehicle? Perhaps. In a world where the automotive and motorcycle press wants to define and label every vehicle as being in a particular box, maybe it's OK that the Slingshot blurs the lines between a car and a motorcycle.
Polaris Slingshot for Sale
What's New for 2022?
The 2022 Slingshot is offered in 5 different models (S, SL, SLR, R, and Signature LE). All are available with an automated-manual transmission (in older models, automatic was not an option), new color and accessory options, two different roof configurations are now optional, and a new Brembo brake package featuring painted calipers and oversized rotors, which is standard on the R but optional on all other models. Paddle shifters, first introduced in 2021, continue to be an optional feature on all automated-manual models except the R, where it is included. The SLR returns after a short break, and the Signature LE model is new for 2022. The technology and infotainment options are an improvement compared to previous models. The R and Signature LE models offer the most tech features, not to mention the vented hood and designer wheels make these models stand out more. The 2022 models began showing up in dealer showrooms in February. Here is where you can find a local Polaris dealer near you.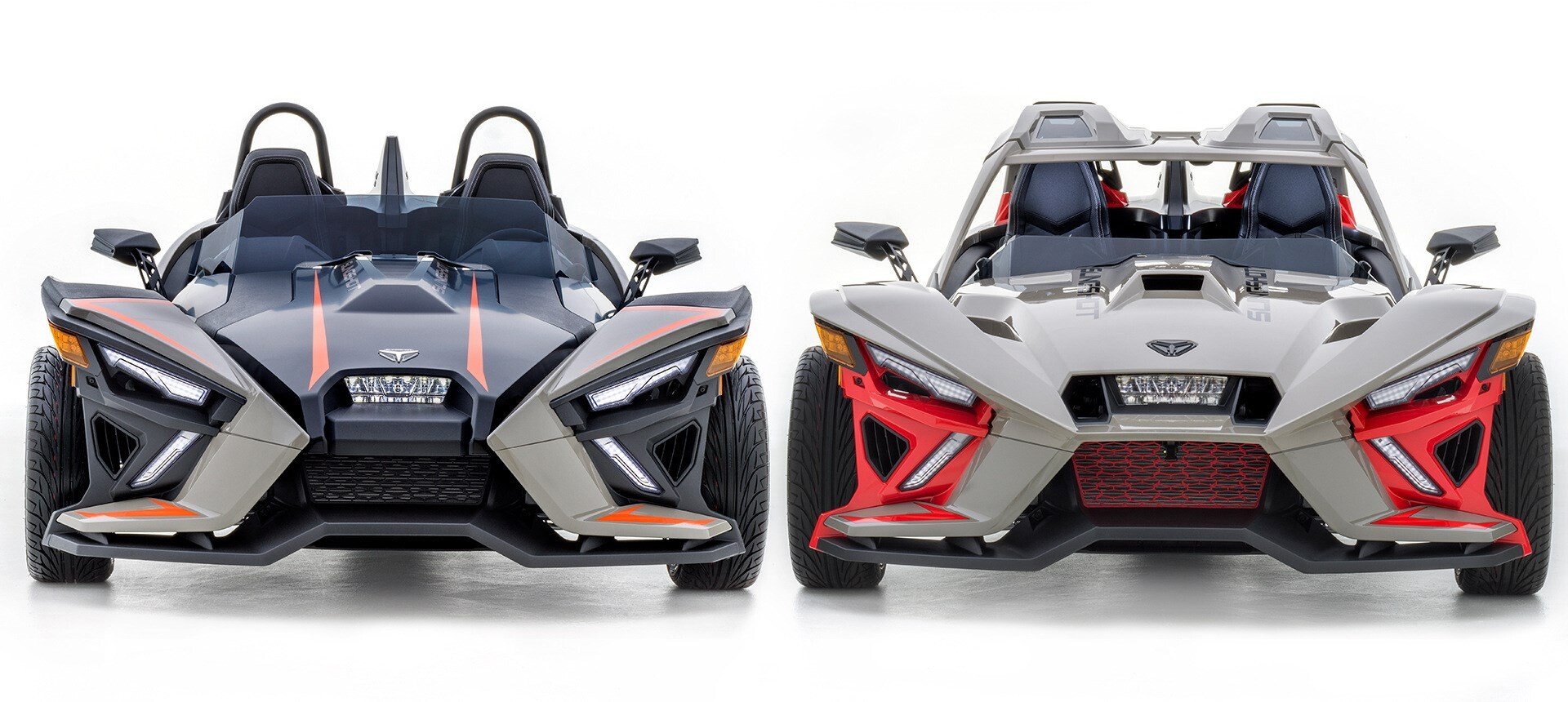 The Slingshot SLR featured with and without the optional Slingshade roof, which is a $3,500 option.
Polaris Slingshot Features
Proximity Key with Keyless Start
Three wheel "trike"
Three-point seatbelts
Two passenger seating
Weather-proof interior
Cruise control
ABS brakes
Electronic Stability Control
Integrated Steering Wheel Controls (Optional on S model)
Traction Control
Vehicle Hill Hold
Security system (optional on S model)
LED headlights, indicator, license plate, turn signals and main brake light
Rockford Fosgate audio system (optional on the S model)
Paddle Shifters is only available if you upgrade to the automated-manual transmission (standard on the R model)
Apple CarPlay is only standard on the R and LE models
Infotainment display (optional on the S model)
Engine type: Prostar 2.0L 4 Cylinder
The SL has the most color choices
Polaris Slingshot Specifications
Model years: 2015 - Present
Curb weight: 1,636 – 1,668 lbs.
Max wet weight: 1,749lbs
Fuel capacity: 9.77 gallons
Ground clearance: 5.4 inches
Vehicle height: 51.9 inches
Vehicle length: 149.6 inches
Fuel type: 91 octane or higher
Peak lateral grip: 1.02 g
Peak power: 178 – 203 HP (R and SLR models are 203)
Rev limit: 8,500 RPM
Valve train: DOHC
Front brake rotors: Vented cast iron, 298 mm diameter (R model: 339 mm)
Front calipers: Aluminum 1 piston (R model: Brembo aluminum 4 piston)
Rear brake rotors: Vented cast iron, 298 mm diameter
Rear calipers: Aluminum 1 piston
Battery: 30AH, 12V, 400 CCA
Vehicle width: 77.9 inches
Track width: 69.1 inches
Wheelbase: 105 inches
Bore x Stroke: 93 mm x 73.5mm
Compression ratio: 11.5:1
Engine displacement: 1,997 cc
Fuel system: Multiport injected
Power steering system: Variable speed sensitive electronic power steering 2.0
Steering actuation: Rack-and-pinion
Steering turns: 2.5 turns
Front tire size: 225 / 45R18
Front wheel size: 18 x 7.5
Rear tire size: 255 / 35R20 (305 / 30R20 for the R and SLR models)
Rear wheel size: 20 x 9.0 (20 x 11 for the R and SLR models)
Suspension: Independent, Double Wishbone
Clutch: Dry, Single Plate, Hydraulicly Actuated
Source:
Polaris Slingshot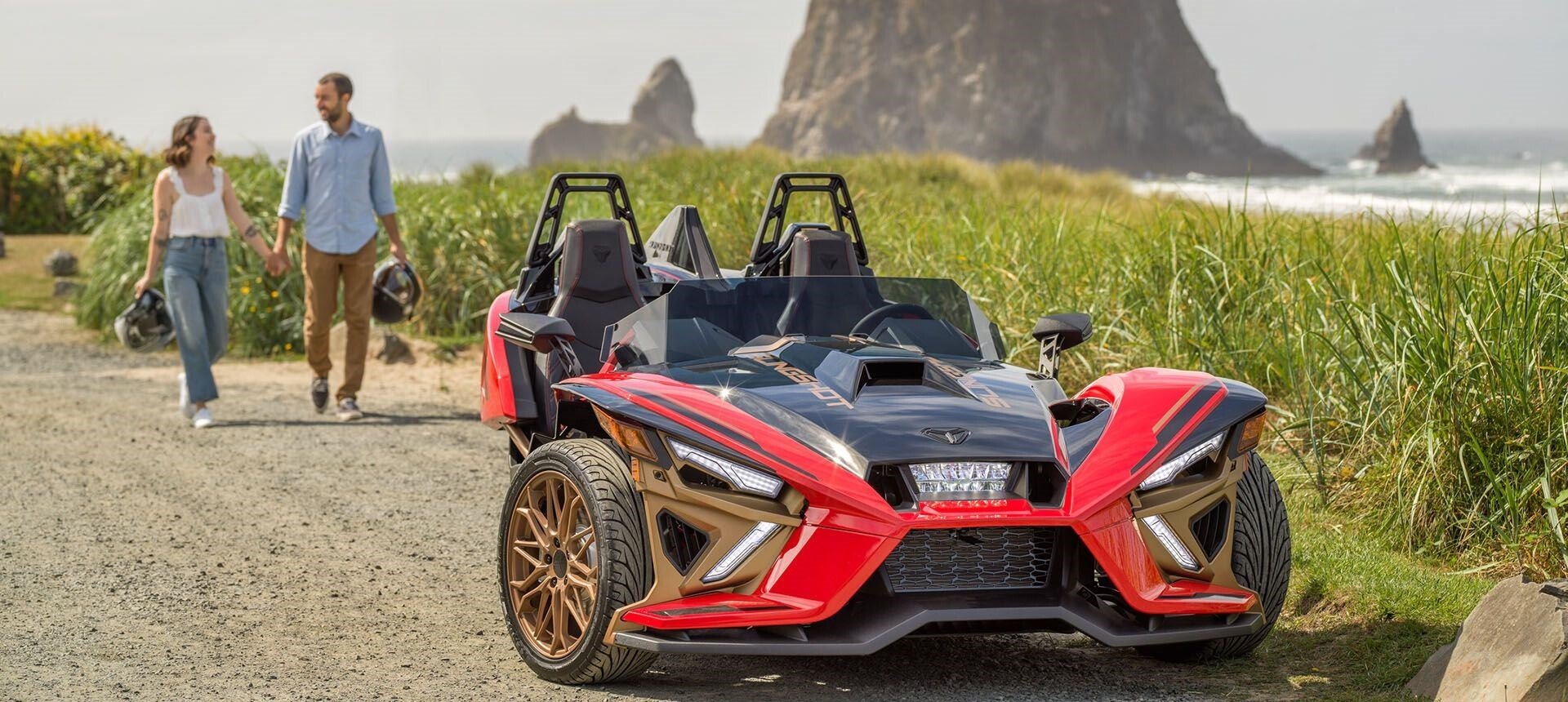 The Slingshot Signature LE is the top tier model featuring "superior style, maximum sound, and ultimate comfort" according to the company.
Polaris Slingshot MPG, Fuel Capacity and Fuel Type
Polaris Slingshot fuel efficiency:
Polaris hasn't stated the average miles per gallon for any of the 2022 models. However, reviewers and owners have claimed to get anywhere between 23 to 33 mpg, with 28 mpg seeming to be the average. Each model has a fuel capacity of 9.77 gallons, and the manufacturer recommends you use 91 octane or higher gasoline.
Polaris Slingshot Price
How much is a Polaris Slingshot?:
The entry-level Slingshot S has a base price of $19,999, although a version with a technology package can be had for $22,799. The SL starts at $25,999; the SLR starts at $28,899, the R starts at $32,499, and the Signature LE has a price tag starting at $34,999. All these prices are for the manual version; if you want an automatic transmission, it will cost you an additional $1,750 to $2,000, depending on the model. MSRP does not include a logistics surcharge of $900 or destination and set up fees.
Used Polaris Slingshot Price:
At the time when we published this buying guide, a used 2015 – 2021 Slingshot cost between $16,000 to $20,000.
Polaris Slingshot Top Speed
The top speed of all 2022 Polaris Slingshot models is capped at 125 mph. On average, you can go from 0-60 mph in 5 seconds.
Polaris Slingshot Colors
Each model's color choices below are available for both the manual and automatic transmission versions.
S Color Options:


SL Color Options:





SLR Color Options:


R Color Options:




Signature LE Color Options:

Polaris Slingshot Accessories
Here are some of the popular and useful OEM accessories you may want to consider for your 2022 Slingshot. These prices are valid as of the publish date of this guide and could change.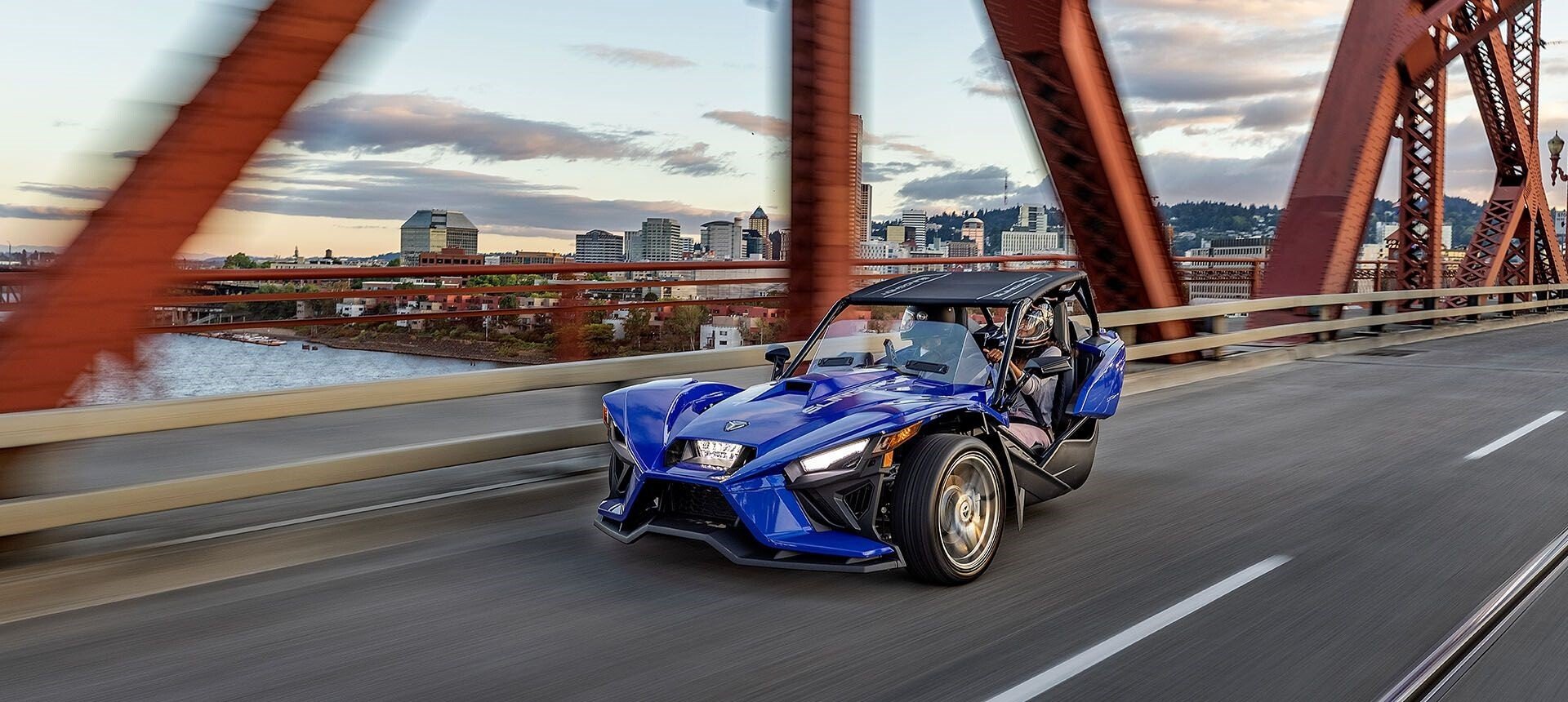 2022 Slingshot S with the Excursion Top and Vented Sport Hood.
Pros and Cons
Pros:
In most U.S. states, no motorcycle license is required
Controls are car-like
Extremely fun to drive
Easy to modify / customize
Cons:
Open cockpit; exposed to weather
Limited storage
Polarizing design
Automated transmission is not as good as manual
Competitors to Consider
If you're interested in buying a three-wheeled car similar to the Polaris Slingshot you may also want to consider the Campagna T-Rex, Can Am's Ryker or Spyder RT, a Harley-Davidson Trike and Vanderhall's Carmel or Venice models. Some of these Trikes are more expensive than the Slingshot and some are comparable in price. Of these competitors, Can Am and Harley have a driver seating more like a motorcycle while the Campagna and Vanderhall are more car-like in their seating position.
Published Aug 10th, 2022
Polaris Slingshot Frequently Asked Questions
More Motorcycle News & Article Categories:
Related Articles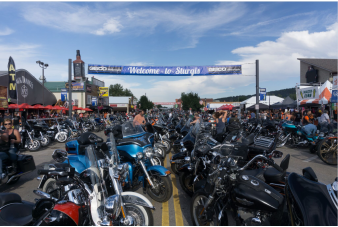 A trip to motorcycling's biggest gathering can be great. Or horrifying. Or both.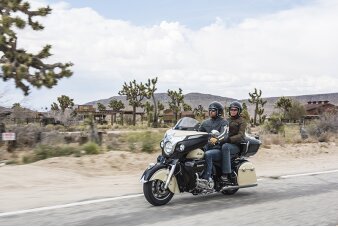 Look out, Electra Glide. The 2017 Indian Roadmaster is on your trail, and it's a luxurious, comfortable ride.
Related Motorcycles
×
2022 Polaris Slingshot Buying Guide