News & Articles About Side-by-Sides
Find articles and information about Side-by-Sides.
Side-by-sides - or SxS - are an evolution of the ATV that first emerged in the late 1980's. The earliest UTV models were all about utility, allowing a passenger to sit at the side of the driver for whatever task was at hand. Early innovations included the Kawasaki Mule and the Polaris Ranger, both still going strong today. Yamaha was influential in creating the hybrid utility and sport / recreation vehicles that are so popular today when it introduced the Rhino model in the early 2000's. The Polaris RZR followed in its footsteps. Other popular manufacturers that can be found on Motorcycles on Autotrader include Honda and Can-Am. Golf Carts are also categorized as side-by-sides.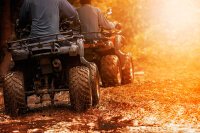 What to Look for When Buying a Used ATV or UTV
Along with making sure everything is mechanically sound, you need to make sure you find the one that best suits your needs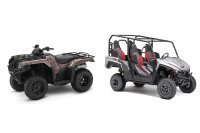 ATVs vs. Side-by-Sides: What's the Difference?
ATVs and side-by-sides serve similar purposes, but have some key differences.
More Motorcycle News & Article Categories:
Related Side-by-Sides
Advertisement
Advertisement