‹ Go back
Top 5 Motorcycle Accessories for the New Year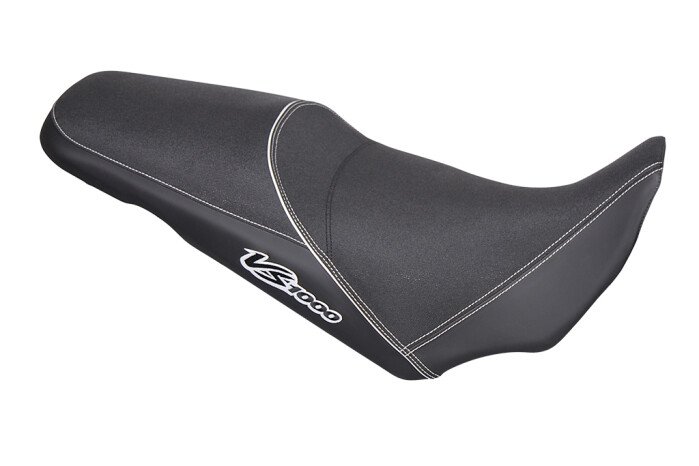 Author: David Booth
So, you want to go motorcycle touring, but the bike you own isn't quite up to snuff. It's too uncomfortable, lacks wind protection and/or has no luggage to carry all the stuff you're going to need for the long trip. Here are the top five motorcycle accessories you'll need to make sure you arrive in style and comfort, not to mention carry all the clothes, toiletries and gear needed for the trip.
Windscreen
Top of the motorcycle accessories list is the aftermarket windshield. Apart from legitimate full-fledged touring motorcycles -- Honda's Gold Wing, BMW K1600GT, etc. -- most motorcycle wind protection is utterly abysmal. They are also often plagued with faceshield-rattling turbulent air flow.
All manner of suppliers -- National Cycle, California Scientific and Puig to name but a few -- offer alternatives. Almost all are taller, offering better wind protection, but almost all rely on sheer size to ward away the aforementioned helmet-rattling turbulence.
The exception is Givi's Airflow windscreen. A two-part affair, the Airflow looks fairly odd, but its unique design creates a smooth flow of air that all but eliminates turbulence. Additionally, it's height adjustable. Other manufacturers -- MRA, Laminar Lip, etc. -- make secondary shields designed to fit onto your existing windscreen, but they don't work nearly as well. The Airflow is the best windscreen I've tested.
Seat
Most standard motorcycle seats are simply not comfortable for the long haul. Too firm, too soft or poorly shaped, the typical stock motorcycle seat can quickly become quite literally a pain in the butt.
Most aftermarket seats fall into two basic categories. The first are basically the same shape and size as the standard affairs but use superior foam to achieve greater comfort. At the other end of the spectrum are the full-zoot touring perches, which are wider with a pronounced dished saddle to spread the load over a greater area. The former maintain the stock riding position, but may not be as comfortable as the touring versions, while the latter provide excellent coverage but can be so wide that they can make it difficult for shorter riders to plant both feet on the ground when coming to a stop.
An excellent example of the former is the Shad Comfort Seat, which, other than being a little flatter in the rider's portion, is similar in shape to standard seats. In other words, it's easy to get boots to ground at a standstill as well as "hang off" the seat when you're carving up corners.
Corbin is probably the most famous of true touring seats, offering substantially wider and firmer padding. They will offer greater comfort over the long haul, but they often discourage movement, which can make them limiting for sporting riders.
Sargent seats split the difference. The have a mild dish and can offer a substantial boost of comfort, but they're not as wide as a full touring seat. Sargent seats also come standard with an emergency flashlight attached to the seat base, as well as a hidden compartment for your license and insurance papers.
Saddlebags
While you could just strap a bag to your rear rack, typical duffels are not convenient, waterproof or secure.
Some people swear by "soft" bags that attach temporarily to the seat and tail section. While they will suit the basic purpose, they're not lockable, typically don't have as much storage capacity and aren't nearly as waterproof as "hard" luggage.
Hard bags are the "suitcases" typically found standard on large touring motorcycles that are secure (as in lockable), fully waterproof and commodious enough to carry a month's worth of socks, pants and shirts.
Typically, aftermarket hard luggage systems are offered as saddlebags (one on each side of the rear of the bike), a rear topcase or a combination of both. Two general constructions are typical. The first is the more common plastic variety, while the second (and more expensive option) are more robust aluminum affairs reserved for adventure touring motorcycles.
The best example of the former is Shad's range of SH35/36 side cases and SH58/59X top cases. The mounting hardware is unobtrusive, the side cases have a neat little extended cargo floor and the top case is expandable for the inevitable holiday purchases.
The best of the aluminum cases are made by SW-Motech. Extremely tough and spacious, there are attachment racks available for almost all adventure bikes. There are also plenty of accessories -- water bottle holders, cargo nets, etc. -- to make your adventure just a little more convenient.
Suspension
The problem with loading up a motorcycle with all this gear -- not to mention the passenger that may share your adventurous spirit -- is that it will tax the load capacity of your rear shock. Designed to accommodate the rider, most motorcycles' rear springs are not stiff enough nor do they have enough preload adjustment to accommodate luggage and a passenger. The result is poor handling and seriously compromised comfort if the suspension "bottoms."
The most famous supplier of suspension is Ohlins, but they are expensive and more oriented to sport riding. More touring-oriented aftermarket rear shocks are available from Touratech, Nitron and Progressive. The first is aimed at those off-road adventure touring types, while Progressive is an excellent budget choice. Nitron, an English brand, offers exception quality and a surprising breadth of applications.
GPS
I was going to write here about the various navigation systems -- Garmin, TomTom, etc. -- available for motorcycles. But the truth is that like car drivers, motorcyclists are discovering that the best navi system is built right into their phone. All that you need are the mounting brackets.
Many are available -- RAM, Kuryakyn, etc. -- but my favourite is QuadLock. Your phone gets a standard-looking case with an unobtrusive mount on the rear. The phone attaches to a handlebar-mounted rack with a simple twist, and you have Apple Maps or Waze at your disposal.
Published Oct 24th, 2018
More Motorcycle News & Article Categories:
Related Articles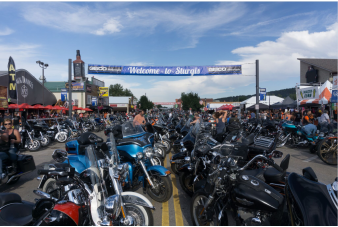 A trip to motorcycling's biggest gathering can be great. Or horrifying. Or both.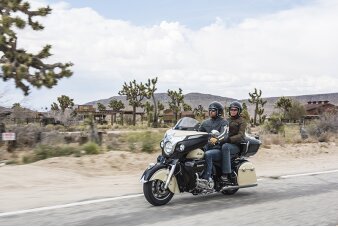 Look out, Electra Glide. The 2017 Indian Roadmaster is on your trail, and it's a luxurious, comfortable ride.
Related Motorcycles
×
Top 5 Motorcycle Accessories For The New Year