‹ Go back
Top 5 Motorcycle Gear Recommendations for the New Year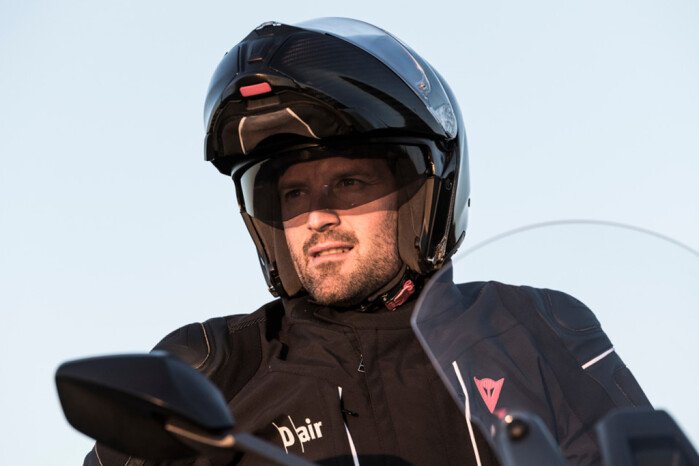 Author: David Booth
The gear you wear is almost as important as the motorcycle you ride. Here is a roundup of the latest motorcycle gear that maximizes safety and comfort.

Modular helmets
Modular helmets -- full-coverage head gear, but with a design that allows the entire front fascia to pivot upwards -- are the fastest-growing trend in protective headwear. It's easy to understand why. With the same overall coverage as full-faced helmets, they're amongst the safest helmets available. But they're far more convenient to slip into, and they allow the rider a full "open" face when the shield is pivoted upwards.
The only issue is that their two-piece design generally makes them heavier than their one-piece alternatives. That's why AGV's Sportmodular is such a breakthrough. Constructed of the same carbon fibre as the company's topline racing helmets, AGV claims the Sportmodular is the lightest modular helmet available. Other standouts are Schuberth's E1 (adventure touring) and C4 (sport/touring). Not as light as the AGV, the Schuberths are renowned for their quietness.
On a more cost-effective note, while the AGV and the Schuberths will set you back close to $800, Bell's Revolver EVO barely breaks the $200 barrier. It's neither as quiet as the Schuberths nor as light as the AGV, but it is well built, comfortable and has a surprisingly good sunshade built in.
Airbag jackets
Airbags have been a safety boon for automobiles, reducing fatalities and injuries dramatically over the last decade. Their adoption to motorcycles has not been as widespread. Actually, they've been almost non-existent in motorcycling, with the only manufacturer offering supplementary inflatable restraints being Honda, and even then only on its top-of-the-line Gold Wings. Instead, ingenious apparel designers have incorporated airbags into racing suits and a few high-priced jackets.
The two name brands to dive into airbag-equipped jackets are Alpinestars and Dainese with their Tech Air and D-Air systems, respectively. The two are remarkably similar with the (uninflated) airbags incorporated into a inner vest. Motion sensors feed an ECU built into the back of the vest (where the back protector usually fits), which determines if a crash is occurring and then triggers the airbag. The protection offered is incredible compared with ordinary passive armour, a veritable revolution in safety. The basic difference between the Dainese's and the Alpinestars' systems is that some of the internal wiring is better on the Alpinstars jackets, and it's easier to swap the vest between jackets. The Dainese system, meanwhile, is lighter, and the LEDs used to monitor the airbag's readiness are much less complicated. Note, however, that both are expensive (retailing for roughly $2,000 for a jacket and the vest) and heavy.
Significantly less expensive is Helite's range of airbag jackets. Instead of a computer telling the airbag when to inflate, the French-made garment's airbag trigger attaches to the motorcycle via a tether cord, which, when appropriate, fires a CO2 canister. A little cruder it may be, but it is effective. And Helite jackets are available for less than a thousand bucks.
Pants
Not yet available with airbags, the construction of motorcycle-specific pants falls into three basic categories: leather, textile and jeans. That last is something of a misnomer, however, as motorcycle "jeans" are hardly basic denim, most having Kevlar waved into the outer fabric or an inner second protective layer. Either way, the abrasion of the very best motorcycle jeans now rivals leather. Textile pants, meanwhile, are made of the same material as jackets, typically various grades of Cordura, though many are reinforced with leather or more robust synthetic material at the elbow and shoulder contact points.
The pseudo jeans are typically more comfortable than leather, though as their protective abilities increase, so do their thickness and, therefore, their advantage abates. Some, textile pants, such as Dainese's D-Explorer, have variably ventilated panels for use in the dog days of summer. Textile pants are often available in sets with a matching jacket and can even be zipped together for maximum protection. Despite their inconvenience, these leather pants still offer superior protection. Whatever you choose, insist on CE-approved armour at the knees and hips.
Gloves
Motorcycle gloves come in three basic varieties: sport, rain resistant and cold-weather. The first are dominated by leather coverings supplemented with either carbon fibre or metal knuckle protectors. The very best use kangaroo hide for its combination of comfort and abrasion resistance. All the major manufacturers build excellent gloves, but, be forewarned, topline gloves from name brands like Dainese and Alpinestars will set you back almost $400. I prefer handwear from a small Austrian firm, Racer, whose products are every bit as good and cost as little as two hundred bucks. Meanwhile, the best rain-resistant gloves I've tested are Held's Air 'n' Dry. They hold up mighty well, keep all the wet out and are almost as comfortable as summer gloves.
As for cold-weather gloves, I skip right past the "winter" bin and head over to the electrified garment department. Heavily-insulated riding gloves are invariably bulky, while heated versions will keep your digits warmer and are much more comfortable. They're available in both battery-powered (they are convenient, but they only last about three hours on a charge) or wired (to you motorcycle's battery) variants. Come Fall, I just wire my Venture Heat gloves to the company's vest and keep riding through November.
Boots
The most important aspect about buying boots is to combine protection and comfort with weather protection. Unlike a rainsuit or even wet weather gloves, which can be carried in saddlebags or a duffel, toting a spare set of boots is impractical. That's why, no matter what type of boots I buy -- be they BMW's Gravel off-road footwear or Daytona's EVO -- I make sure they have an inner Gore-tex layer. Most major manufacturers make excellent boots, fit probably being a better determinant than brand. That said, at least when it comes to full-length footwear, I wear nothing but Daytonas.
Published Oct 24th, 2018
More Motorcycle News & Article Categories:
Related Articles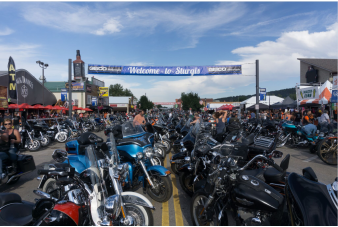 A trip to motorcycling's biggest gathering can be great. Or horrifying. Or both.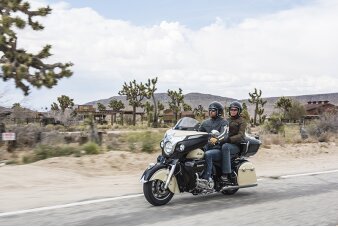 Look out, Electra Glide. The 2017 Indian Roadmaster is on your trail, and it's a luxurious, comfortable ride.
Related Motorcycles
×
Top 5 Motorcycle Gear Recommendations For The New Year