News & Articles About UTVs
Find articles and information about UTVs.
Are you looking for a rugged, reliable vehicle to assist you on the farm, ranch, or job site? Perhaps you need a vehicle that will help you track game over many miles, sometimes with a hunting buddy or three in tow? Or maybe your family would like to log some miles on a local trail system? The UTV may just be the vehicle for you. With side-by-side seating in one or two rows, there is almost certainly a UTV that can meet your needs. Polaris, Honda, Can-Am, and Yamaha are some of the most popular manufacturers according to search volume here at Motorcycles on Autotrader. The Polaris RZR and Ranger series, Can-Am Maverick, Honda Pioneer and Yamaha Wolverine are all in-demand models.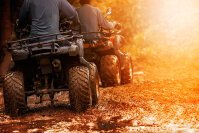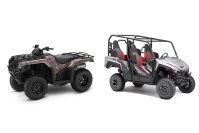 More Motorcycle News & Article Categories:
Related UTVs