Motorcycle Events
Find events for motorcycle enthusiasts like you
Bobz Bikz 3rd Annual Fun Run
Where:

400 E D Ave, Kingman, KS 67068, USA

When:

Apr 22
8Am/10AM to 2PM
Come ride with us through the Kansas countryside, and have lunch at one of several catering trucks.
More Info ›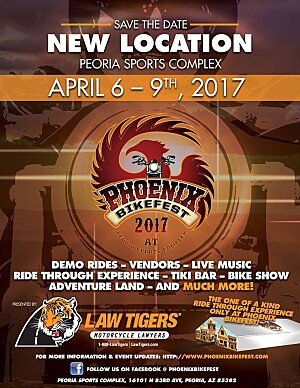 Phoenix BikeFest 2017 | April 6-9, 2017
Where:

16101 N 83rd Ave, Peoria, AZ 85382, USA

When:

Apr 5 - Apr 8

The Annual Event is back and we have GREAT news! Last year was such a huge success, we OUT GREW Westgate!
More Info ›