Honda

  ›

CRF250R

  ›

2023

  ›

2023 Honda CRF250R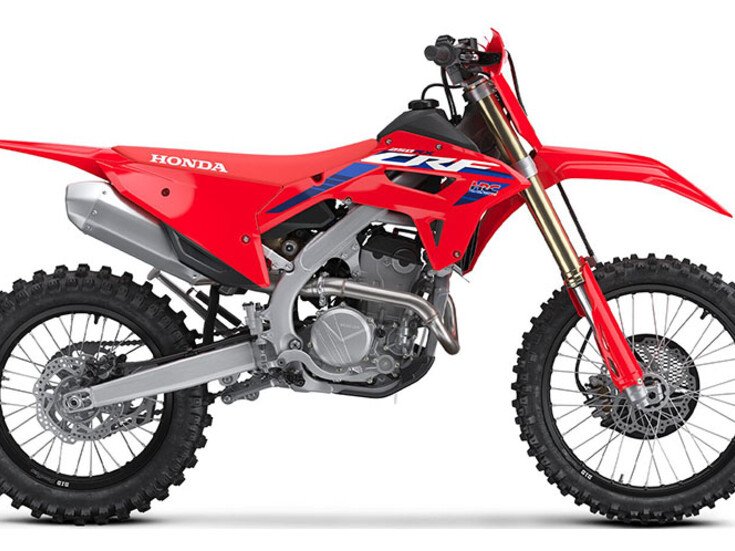 Related Articles
Zero's latest electric dual sport motorcycle makes its case for space in the garage.
Honda redesigns its Gold Wing from the ground up for 2018
Motorcycle Overview
2023 HONDA CRF 250RX
TRAIL-READY MOTOCROSS PERFORMANCE
Talk about the best of both worlds: the 2023 Honda CRF250RX gives you motocross performance in a bike that's specially tailored to desert races, enduros, and demanding trails. Tailored how? With different gearbox ratios, an 18-inch rear wheel, special engine settings, handguards, a sidestand, a larger fuel tank, and more. We gave this bike a major upgrade last year, and it's been racking up trophies ever since. Like the pure-motocross CRF250R, the RX features a double-overhead-cam engine, fuel injection, an all-aluminum chassis, and state-of-the-art Showa suspension. Anyplace where power, precision, light weight and nimble handling is at a premium, this is the bike you'll want to be riding. And to make the whole package even better, it's eligible for our Red Rider Rewards contingency program.
FEATURES:
COMFORT
HANDGUARDS: Whether you're ripping through Baja or hustling your way through some tight woods, on a bike like the CRF250RX, handguards are a real necessity. That's why our 2023 bike is equipped with them right from the factory.
BLACK RIMS: They may not help you go faster, but the sweet black DID rims sure look good.
LOWER SEAT / NARROWER BODY: Fine tuning the seat height and narrowing the bodywork makes it easier for you to move around on the bike and help enhance rider comfort.
DETAILED BODYWORK MOUNTING: It may seem like a small thing, but every second counts when you're servicing your bike between rides. Fewer bolts mean enhanced serviceability, at the track or in your garage.
FLAT SEAT / TANK JUNCTION: The 2023 CRF250RX features a flat seat/tank junction. The superior ergonomics make it easier to move forward and back on the bike, increasing your control.
"IN MOLD" GRAPHICS: With all the time you'll be spending in victory circle, you need to look your best. The CRF250RX has you covered. Our "in mold" graphics look great, and stay looking good longer.
REAR SUBFRAME: The CRF250RX's subframe uses extruded rear members that produce a 20-percent reduction in weight versus the previous generation CRF250RX. Since that weight comes off the top of the bike, it also contributes to the CRF250RX's low center of gravity.
SIDESTAND: Real enduro bikes need a sidestand, and we've given the CRF250RX a great one. For 2023 we've tucked it in even tighter so it's out of the way on the trail.
SMOOTH STYLING: Blending the CRF250RX's body panels does more than just make the bike look smooth, fast, and stylish. It also helps you move around on the bike while riding. Nothing wrong with smooth, fast, and stylish, though.
CONVENIENCE
HRC LAUNCH CONTROL: We're talking about a special ECU program here: push the button to select the mode, hold the throttle open, release the clutch, and the CRF250RX will do the rest, launching you into the first turn with a big advantage. It turns your bike into a holeshot-seeking machine!
ELECTRIC START: The CRF250RX is equipped with an effortless electric starter. Convenient and lightweight, it's a huge deal if you need to restart a stalled bike in the heat of battle.
ENGINEERING
NINE-PLATE CLUTCH ASSEMBLY: The CRF250RX uses a nine-plate design to improve durability and hookup. That means less slip at peak horsepower, better torque transmission through the clutch pack and greater durability. Plus, the clutch pull is lighter, and you get improved engagement feel.
DOHC ENGINE LAYOUT: The CRF250RX uses a double-overhead-cam (DOHC) engine layout with a unique finger-follower rocker design. Together with the rest of the engine's architecture (bore and stroke, intake tract, piston, and more), you get more power and a higher redline.
BIG BORE / SHORT STROKE: The CRF250RX's 79mm bore and short 50.9mm stroke let our engineers create a high-revving engine with plenty of room for large valves. The engine breathes and revs—the two keys to making power in the enduro world.
DOWNDRAFT INTAKE AND EXHAUST LAYOUT: The DOHC cylinder-head design let our engineers straighten out the CRF250RX's intake and exhaust tracts. The intake is shorter and just about arrow straight, and the exhaust flows more efficiently too. The straighter ports also help boost low-speed and midrange torque as well as throttle response.
SINGLE-MUFFLER EXHAUST: Using a pressed-alloy design lets us shape the muffler for better rider ergonomics and lighter weight.
SINGLE-PIPE EXHAUST: Along with the single-muffler exhaust, the CRF250RX naturally uses a single-pipe header. It routes close to the center of the bike, and its light overall construction helps improve weight distribution.
WIDER WATER-PUMP DRIVE GEARS: Making the water-pump drive gear wider gives it more tooth-engagement area for longer component life.
UPGRADED CAM OILING: To help improve durability, we've re-routed the cam's oil supply this year, as well as giving the CRF250RX a more rigid cam holder—better roundness and more oil means less friction and wear.
ENGINE MODE SELECT BUTTON: This simple handlebar-mounted button lets you dial in engine power delivery character with a push of your thumb. Choose between Standard, Smooth and Aggressive, depending on course conditions.
ENGINE OIL SCAVENGE PUMP: Deep in the engine, there's a special oil scavenge pump that we've designed to be especially small and out of the way. While you may never see it, it helps keep the CRF250RX's overall design compact.
SPECIAL PRIMARY AND TRANSMISSION RATIOS: To handle the fatter midrange power and torque, the CRF250RX gets special primary and transmission ratios. The ratios let our engineers use the same shaft centerlines as the previous design, so the transmission itself remains light and compact.
TWO-LEAD SHIFT DRUM: By changing from three to two lead tracks on the shift drum last year, we improved the shift feel between second and third gears.
GEAR-POSITION ENGINE MAPPING: Talk about smart: The CRF250RX features an ECU with special engine mapping for each gear. You can't give an inch in this class, so having your engine deliver optimal power for each gear choice is one of the features that separates CRF250RX riders from the rest.
"H" SECTION CRANK: Look closely at the CRF250RX's crankshaft profile and you'll see its "H" cross-section design. What's up with that? Just like a structural "I" beam in an aircraft wing or a skyscraper, it boosts strength and cuts weight over a conventional crank's shape—a big deal when you consider this part spins at over 14,000 rpm!
HIGH CAPACITY RESIN FUEL TANK: For longer enduro loops, the CRF250RX features a large resin fuel tank that holds over two gallons.
LITHIUM-ION BATTERY: Like the rest of the CRF250RX, the bike's Lithium-Ion battery is both super light and high performing. In fact, it weighs less than half the weight of a conventional lead-acid battery.
SHARED ENGINE / GEARBOX LUBRICATION: The 2023 CRF250RX uses a shared engine/transmission oiling design. Why? Combining the two systems shaves weight and helps make the engine more compact, especially when it comes to placing the right-side cam drive and the clutch so close together.
TITANIUM INTAKE AND EXHAUST VALVES: Light is right when it comes to a high-revving engine's reciprocating masses. That's why the CRF250RX uses titanium intake and exhaust valves with a super-narrow 20.5-degree included valve angle. Ovalized valve springs and long-wearing Diamond-Like Carbon (DLC) treated finger rockers complete the package.
TOTAL AIR MANAGEMENT: Total air management means complete attention to how efficiently air gets through the intake, through the head, and out the exhaust. Eliminate losses here, and you make more power everywhere. And the best part? It's free horsepower—you just need a bike with smart design.
HANDLING
DUNLOP GEOMAX TIRES: The CRF250RX's Dunlop Geomax tires are specially designed for enduro use. The AT81 tires are spec'd at 90/90-21 for the front and 110/100-18 for the rear. You read that right: the CRF250RX rolls on an 18-inch rear wheel.
REVISED FRAME RIGIDITY: Great handling starts with a superior frame, and that's one place where the CRF250RX's chassis puts you out front. First, it's light. By making the frame's main spars narrow, we save weight, but more important we make the chassis more responsive by fine-tuning the lateral rigidity. The result is a bike that gets into, around, and out of corners faster.
260MM FRONT BRAKE: The CRF250RX's large front-brake disc measures a whopping 260mm. You get great brake feel and a pattern that cuts down on weight. Front and rear brake-disc guards are part of the package too.
LOW BATTERY MOUNTING: Locating the battery low in the chassis helps to lower the CRF250RX's center of gravity—and that always helps overall handling.
LOW REAR SHOCK MOUNT: With its low rear shock mount on the frame, the CRF250RX benefits from both a lower center of gravity (cg) as well as chassis stability.
SHORT SWINGARM: The CRF250RX's short swingarm helps make it light, and also helps give the bike better rear-wheel traction, and reduces unsprung mass, important considering how much power you have on tap.
SHOWA® SPRING FORK: The 49mm Showa® fork features a conventional spring design that helps increase the CRF250RX's front-suspension precision, handling and feel. The 39mm piston diameter and 25mm rod diameter guarantee a plush feel and supple action.
REAR SUSPENSION: Our Pro-Link design lets us give the 2023 CRF250RX 12.3 inches of suspension travel, along with a lightweight spring. All resulting in a plush, controlled ride.
SINGLE EXHAUST ROUTING: The CRF250RX's single-pipe exhaust is going to get a lot of attention, but another advantage that you might not think of is how it lets you move more freely on the bike. By tucking in unobtrusively, it makes moving around on the bike easier than ever.
TWIN SPAR ALUMINUM FRAME: The CRF250RX's latest twin-spar aluminum frame is virtually identical to the CRF450R motocrosser's except for the lower engine cradle where the engine mounts. It's the foundation for the 250's superb handling.
PERFORMANCE
FUEL INJECTION SYSTEM: By tipping the CRF250RX's fuel injector back at a 60-degree angle, the injector sprays fuel all the way back to the throttle butterfly. The engine gets a cooler, denser fuel charge for more power and better torque. It's little details like this that put the CRF250RX up front.
HOLESHOT-WINNING POWER: Feel free to hold that throttle open and head for the first turn—the CRF250RX is designed to win that critical holeshot drag race. You'll also feel the increased low-end to mid-range torque.
BRIDGED-BOX PISTON: The CRF250RX's bridged-box piston is the final piece to the bike's engine performance package. The design features a reinforcing structure between the skirts and the wrist-pin bosses that helps enable the CRF250RX's high redline.
HIGH REDLINE: With our better-breathing DOHC design and the big-bore/short-stroke engine, the CRF250RX's rev limit is way impressive. The same goes for peak power and peak torque.
HIGH-VOLUME AIRBOX AND AIR CLEANER: The 2023 CRF250RX features an air-cleaner element with plenty of surface area and volume. Plus, the airbox itself has a whopping 78 percent more capacity than last year's model. More air equals more power, especially in the midrange. In addition, we've made it easier to service the air filter too.
LARGE-CAPACITY RADIATOR: A bigger radiator means better cooling, and better cooling means more power, from the start of your ride to the finish. With that in mind, the 2023 CRF250RX features six percent more radiator area than the earlier design.
LARGE VALVE DIAMETERS: The CRF250RX's valves don't just have impressive lift, the valves themselves are large-diameter too—33mm intakes and 26mm exhausts. Combined with the high lift, the twin-cam CRF250RX flows a lot more, especially at high revs when you're wicking it up.
HIGH-PERFORMANCE CAM PROFILES: With input directly from our HRC factory team, we've given the CRF250RX cam profiles that to help the engine produce better bottom end torque and power while still retaining the CRF250RX's substantial peak.
THROTTLE BODY: With a 44mm venturi designed to speed up airflow, the CRF250RX's throttle body really reaps benefits at low engine operating speeds. You get power and snap, right now.
Vehicle History Report
View the CycleVIN motorcycle history report
Vehicle Specifications
VIN

FH4132

Motorcycle ID

201293561

Stock Number

FH4132

Category

Motorcycle

Subcategory

Off Road / Dirt Bike

Type

Competition

New/Used

New

Mileage

N/A

Engine

DOHC, four valves per cylinder

Exterior Color

Red

Heated Seats?

No

Saddlebags?

No

Cruise Control?

No

Antilock Brakes?

No
Suspect Fraud?