Why Would You Want to Own a Scooter or Moped?
You may want to consider buying a scooter or moped for a few reasons. Maybe it is the fun thrill of adventure paired with their low cost or the independence of getting out on the open road, or you just want nimble transportation with high fuel efficiency to zip around town.
In the U.S., mopeds and scooters are increasing in popularity for reasons like they can be stored in small spaces, their driving position makes them wonderfully comfortable to drive for short trips, and in some states, you can be as young as 14 to legally drive one. According to the Motorcycle Industry Council (MIC), a non-profit trade association representing scooter and moped manufacturers and dealers, scooter sales in the U.S. increased by +35% from 2020 to 2021.
Scooter buyers in the U.S. have caught on to why scooters are so popular in Asian and European countries. If you seek a high MPG, easy-to-drive transportation method to fit a limited budget, do not need lots of storage space to haul your stuff, a moped or scooter may be right for you.
Ten Reasons Why You Should Buy a Scooter
Here are the Top 10 reasons why we think you should buy a scooter or moped.
No matter your budget, there is a scooter for you.

Whether you are in the market for a new brand name Scooter like a Vespa or a cheap used Asian model, you can easily find a scooter to buy that you can afford. While some scooters, like the BMW C650GT, can cost upwards of $12,000, other models can be found for under $1,000. Popular scooters, like the Honda Ruckus, can be found brand new for just under $3,000. If you are willing to save money to buy a new scooter or can be patient in your search for the most affordable used scooter, you will find that perfect scooter.

Motor scooters have a low operating cost.

When you consider the cost of buying a scooter paired with its extreme fuel efficiency, a scooter has a much lower "cost to own and maintain" than a car or truck. Filling up the gas tank should cost less than $10, and scooter parts are much less expensive than a passenger vehicle. Bottom line - scooters are perfect if you are trying to keep your monthly costs down.

Scooters can be parked almost anywhere.

Have you ever pulled your car into a parking lot or garage and had trouble finding a space? With a scooter, you will not have to worry about finding a parking space since scooters can be parked almost anywhere. Given a scooter's small size, you should not have any problem finding a spot. A word of warning - do not park your scooter on the sidewalk as you may get a ticket.

A scooter can fit in any garage or be stored in a small space.

With its compact size, a motor scooter can easily be tucked into a corner, a garage, or a carport. If you are thinking of storing your scooter during the cold winter months, just winterize and cover your scooter. When the warmer months return, you will be ready to get on the road in no time.

Scooters are easy to learn how to ride.

Most scooters do not have multiple gears, do not require any shifting, and are purely automatic. Just pull back on the throttle, and away you go. Unlike a motorcycle, when driving a scooter, your feet do not have to manage the shifting of gears. The brake and gas are all controlled by your hands. Just sit back and go on your way.

You do not need a special motorcycle license.

Unlike most motorcycles, many U.S. states do not require specialized training or a license to drive a gas-powered 50cc (or less) scooter. You will be on the road to freedom and independence in no time. Check with your state's DMV to be sure.

Scooters get amazing gas mileage.

Whether you buy a gas-powered scooter or an electric-hybrid scooter, like the 2019 Honda PCX, some scooter owners have reported getting up to 160 MPG. Just like cars and trucks, some scooters are more fuel-efficient than others, but you can easily expect a scooter to average between 70 and 100 miles per gallon. There is no question that a scooter is one of the most fuel economical transportation methods out there.

There are plenty of styles and color choices.

There are so many different Scooter and Moped design styles and color options available to match your personality. Whether you want an "all business" black, a "carefree" yellow, classic retro styling, or a road-warrior sleek design, you should be able to find a scooter that matches your taste.

You can experience the open air on the open road.

Just like a motorcycle, the scooter driving experience exposes you to nature's elements. It provides the driver with the opportunity to see and enjoy the scenery as the wind rushes over you.

Young people love scooters.

In most states, the minimum age to drive a scooter or moped is 15 or 16, but there are states where you can be as young as 14 to drive one. They make an excellent transportation option for a teenager or college student who is short of cash but needs to be able to get around town.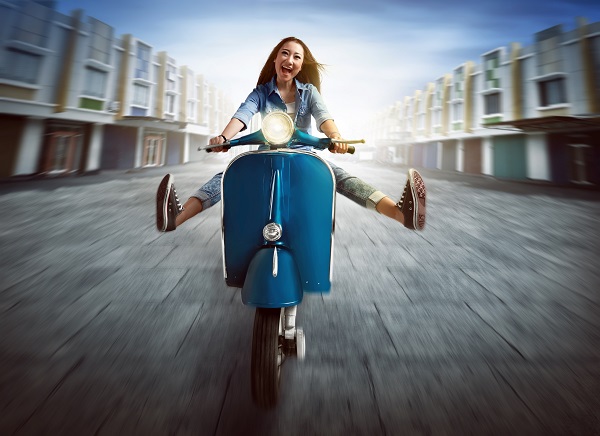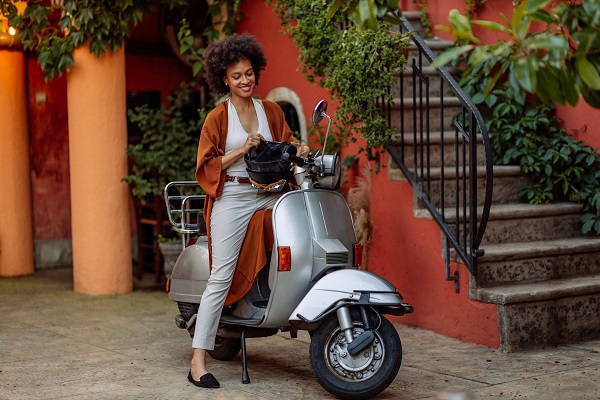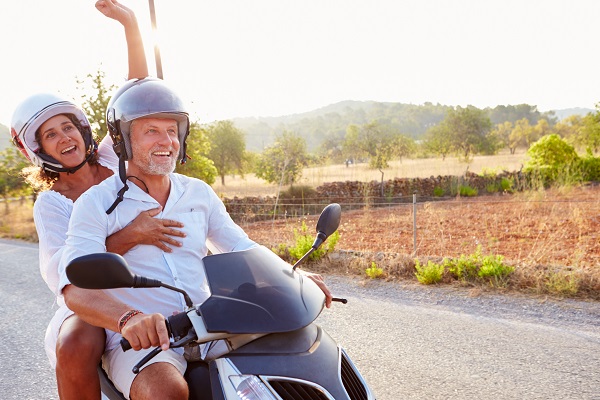 Pros and Cons of Owning a Scooter
Pro
Sitting upright = comfortable ride
Excellent fuel economy (MPG)
Low cost to own and maintain
Some scooters do not require a special license
Can be parked and stored in tight spaces
Fun design styles and color choices
Insurance is cheaper than a motorcycle or car
Cons
Most scooters cannot be driven on a highway
Not fun in cold or wet weather conditions
Some scooters require a special motorcycle license
Limited storage and cargo space
Longer drives could get uncomfortable
Accidents could result in a major injury
Some scooters only allow one rider at a time
Riders looking for brand new scooter with all the best technology can find it right here. Scooters from this year and next feature the most advanced technology and features for the city streets.
Scooters By New, Used, or Price
What should I consider when buying a scooter?
Think about your riding usage, needs, budget, and care. Do you need to get on a highway? Most scooters will not go fast enough to maintain a safe flow of traffic on a highway. If you plan to use local roads, a scooter will be fine.
If budget and cost are a primary factor in your decision, many scooters can be purchased for less than $3,000, and the cost to fill up a tank of gas and your maintenance will be less than the same expenses for a car.
Does your state regulate a scooter or moped like a motorcycle, or are they in a special vehicle class? This answer will impact whether you need a special license and a training class and pay the associated fees. Depending on the scooter's engine size (cc), your state will have a specific license, titling, registration, helmet, and insurance requirements.
Can you perform any maintenance yourself, or is there a scooter dealer in your area who can work on the scooter you have decided to purchase? If you buy a scooter from a private owner, have they regularly maintained it and kept detailed records? Buying a scooter from a dealer could bring you more peace of mind.
Is the terrain where you'll be riding flat or hilly? A 50cc scooter will probably better suited to single rider driving on flat terrain whereas a scooter with a larger engine size will accommodate 2 passengers and hills much better.
Top Scooter Makes
What are they saying about these brands?
Vespa, Aprilia, Piaggio scooters are known for their styling, design, history, and prestige. They may not have the latest and flashy tech features and gadgets, but they employ the highest quality build standards, and their MSRP reflects it. Classic Italian styling and design; there is a lot of panache here.
Honda, Yamaha, and Suzuki scooters are known for their economical prices, technical innovations, reliability, and fuel economy. Some of their parts are basic and not high-end, but this does not mean they are cheaply made, allowing them to pass the build savings on to the consumer. On average, they are less expensive than their Italian counterparts.
The Kymco brand has quietly improved its design and production quality over the last decade and is starting to rival its Japanese counterparts in many ways. These brands have focused on producing affordable scooters which pack a lot of features. Even though they are low priced, these scooters are superior to a cheap scooter you could buy online at Amazon.
If we were to pick our top 3 brands, we'd recommend a scooter from Vespa, Honda or Suzuki. Scooters from each of these brands dominated our Top 10 New and Used Scooters list for good reason. Their scooters are stylish, come in a wide variety of engine sizes but are in high demand so they don't depreciate quickly.
Top Scooter Models
What makes each of these models stand out?
With its fat tires and ruggedly stylish stripped-down design, everything about the Honda Ruckus screams cool. Sure, there is limited cargo space and a small 49cc engine, but it allows plenty of modification options. $2,799 base MSRP.
The 582cc Honda Silver Wing is a comfortable, touring scooter with a passenger seat capable of long-distance highway rides. 2013 was the last production model year for the U.S.
The 49cc Honda Metropolitan is fun, practical, reliable, quiet, and has just enough cargo storage, but it is the classic style and design which makes it a winner; $2,499 base MSRP.
The Honda PCX150 is a 150cc liquid-cooled 4-stroke, two-passenger scooter with plenty of technology features, and ample storage; $3,799 base MSRP.
The Suzuki Burgman 400 and 650 are known for their sleek design, approximately 60+ inch wheelbase, ample cargo space, and seating for two riders suitable on local roads or highways. $8,299 base MSRP. The 650 was discontinued in 2018.
The Vespa GTS 300 is the fastest and most powerful Vespa available. Featuring a liquid-cooled 300cc engine and ABS brakes with ASR traction control, it also has a USB socket to charge your smartphone while you ride; $7,099 base MSRP.
The Vespa Primavera 150 comes in 5 different versions, has ABS brakes, and is considered a modern classic with its Italian styling and sleek design. $5,349 base MSRP.
Looking for deals on used scooters? Save cash on your next bike by checking out these pre-owned rides. You don't have to spend big to have a big time on a used scooter.
Motorcycle Dealers Near Ashburn, VA See All Dealers ›
Here's a list of the motorcycle dealerships in the Ashburn, VA area who can help you find the best deal on a new or used motorcycle. Start shopping and get ready to ride!
Find a New or Used Scooter on Motorcycles on Autotrader
Are you looking to buy a scooter? Motorcycles on Autotrader helps you find new scooters for sale through classifieds posted by motorcycle dealers. You can also find used scooters for sale by owner and private sellers - pre-owned and late model scooters. Motorcycles on Autotrader also helps you check scooter prices or sell scooters. If you're lucky, you can even find a great deal on a cheap scooter for sale near you! Popular models include the Honda Ruckus, Honda Grom, Honda Silver Wing, and Suzuki Burgman 650. Other makes worth considering include Yamaha, Vespa, BMW, Kymco, Aprilla, and Piggio. A maxi-scooter or touring scooter has a larger frame and typically larger engines, providing more versatility.
Frequently Asked Questions About Buying a Scooter